Viktorianisches Occhi by Julia Haug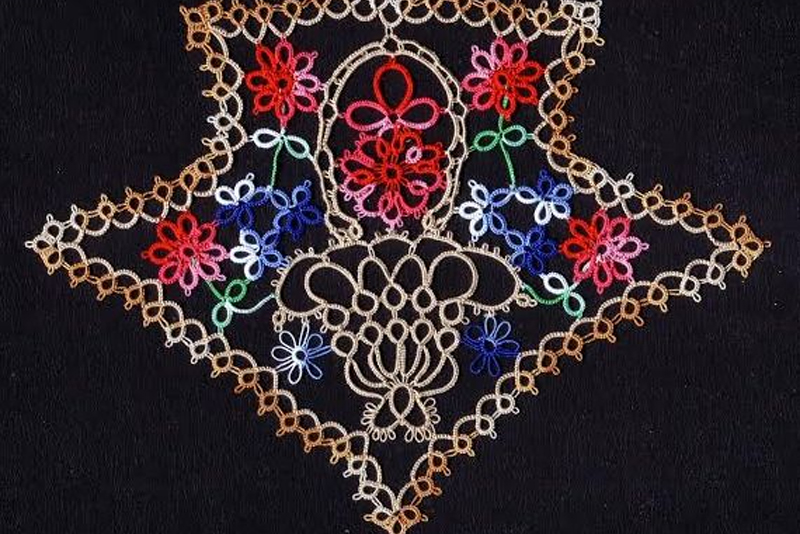 Viktorianisches Occhi - Die Muster von Mademoiselle Riego by Julia Haug.



Julia Haug is introducing tatters to Mademoiselle Riego. Mlle. Eleonore Riego de la Branchardiere published her first book, "Knitting, Crochet and Netting" at the age of 12 in 1846. She went on to publish 72 books on the needle arts of which 13 were tatting books (11 books and 2 reprints.) Mlle Riego began with borders and insertions in tatting and went on to create gold-medal award winning tatting featured at the world expositions 1851, 1855, 1862 and 1872. All of her books are in public domain and may be downloaded free here at BellaOnline.com. https://www.bellaonline.com/subjects/3137.asp






Although this 2009 tatting pattern book is printed in the German language, all the patterns are represented by clear and detailed photos of new samples of the tatted lace pieces. (These are not reproductions from the original books but wholly new tatted samples.) Short directions on the method of tatted each piece are given and followed by excellent black line drawings. The order of tatting is clearly marked in color and the double stitch count is also visible on each drawing.
The 72-page book contains 38 patterns selected from 8 of the 12 Riego books. The patterns include standard edgings, one shuttle work and intricate designs. One pattern is known as the "Handkerchief or Chalice Border," page 58-58. (See sample of pattern style photo.) This intricate includes maltese chains, rings, one shuttle work combined with standard ring and chain repeats.
[Ed.'s Note: The Online Tatting Class (www.georgiaseitz.com) has an example of the completed pattern posted online: https://www.georgiaseitz.com/morales/riego.pdf
Sample of pattern done in one color: https://www.georgiaseitz.com/morales/lilyriegosample.jpg
Sample in many colors: https://www.georgiaseitz.com/morales/wallysosaversion.jpg
This is the entire list of the Mlle. Riego books.
The Simple Book of Tatting, 1850
The Tatting Book, 1850
Golden Stars in Tatting and Crochet [Etoile Dorée in Tatting], 1861
Tatting Edges and Insertions, 1861
The Exhibition Tatting Book, 1862
The Royal Tatting Book, 1864, 1867
The Complete Tatting Book, 1866, 1867
The Pearl Tatting Book, 1866
The Lace Tatting Book 1867
The Raised Tatting Book, 1868
Lace Tatting. Tatting chapter only from the Irish Lace Instructor, 1886
Ed.'s Note: I acquired all these books for my own personal reference library over the last 3 decades. -G. Seitz
You Should Also Read:
German Tatting Terms
German Language Tatting Books


Related Articles
Editor's Picks Articles
Top Ten Articles
Previous Features
Site Map





Content copyright © 2019 by Georgia Seitz. All rights reserved.
This content was written by Georgia Seitz. If you wish to use this content in any manner, you need written permission. Contact Georgia Seitz for details.