Orchid Profile - Dendrobium biggibum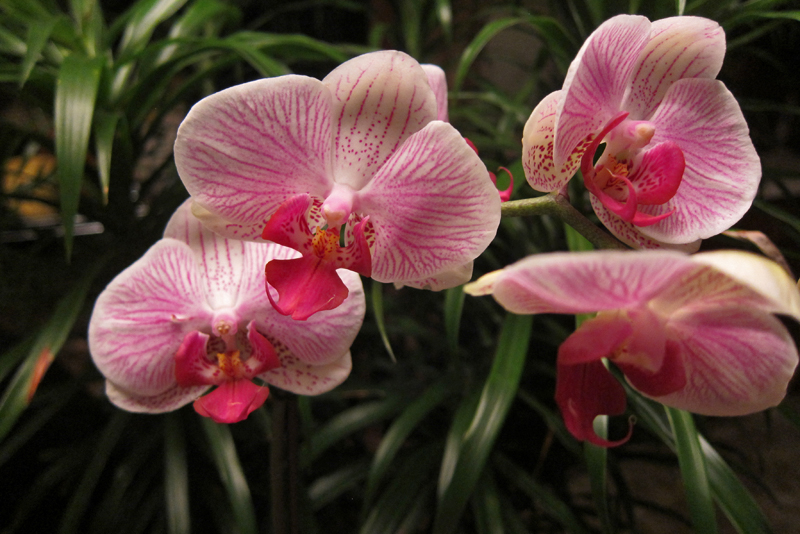 Here is a species plant that I recommend for any greenhouse growers out there. I was lucky enough to be able to purchase one of these in bloom at my orchid society meeting a couple of months ago and am really thrilled with it.
Native to Australia,
Dendrobium biggibum
is found in semiarid regions, usually at low elevations. They normally grow in bright light as epiphytes in small trees and sometimes as lithophytes on rocks. Size is variable from 16 inch pseudobulbs to 48 inch pseudobulbs. The one I have is D. biggibum var compactum and it is mature in the 16-inch range. The inflorescences are 8 to 16 inches long with 8-20 lovely 1-3 inch flowers. Mine are so long and heavy that hanging the plant was required. Flowers are usually violet, but colors can be white, pale to deep lilac, magenta and dark purple. Blossoms are highly variable both in size and color and even the plant I have seems to have some variety in flower color. The flowers will last for months providing they do not become water spotted. Each pseudobulb can have 1-4 inflorescences so the plant looks like it's covered with flowers. Prior year growth, even when the leaves have dropped, can produce inflorescences. Blooming season is at its peak from August through November in the northern hemisphere and February through March in the southern.
Here's the link to a picture in the Internet Orchid Species database by Jay Phal
D. biggibum
.
D. biggibum needs high light, good air circulation, and high humidity. It is generally a warm growing orchid (60 degrees night, 90 degrees day), although it seems to be somewhat tolerant at both ends of the spectrum. This plant requires a resting period after it blooms. It is recommended that the plant be placed in high light conditions for 2-3 months in the winter with minimal watering and no fertilizer. When new growths start they are particularly susceptible to rot until they are 2-3 inches tall, so be careful with wetting new growth.
The plant may be mounted or potted. If potted, keep in as small a pot as possible with very open and fast draining medium. Good fast drainage is essential as these plants dislike wet roots. Repotting is recommended every other year when new growths are 2-3 inches high and new root growth is apparent. Because of the pendant nature of the flowers, I am growing mine in a wooden vanda basket hung high in the greenhouse for maximum light conditions.
I hope some of you will be able to grow this great plant. Let me know what you think and how your plant has done!!
You Should Also Read:
Dendrobium-The Spray Orchid


Editor's Picks Articles
Top Ten Articles
Previous Features
Site Map





Content copyright © 2022 by Susan Taylor. All rights reserved.
This content was written by Susan Taylor. If you wish to use this content in any manner, you need written permission. Contact Anu Dharmani for details.