Georgiana Bromley - Needle Tatting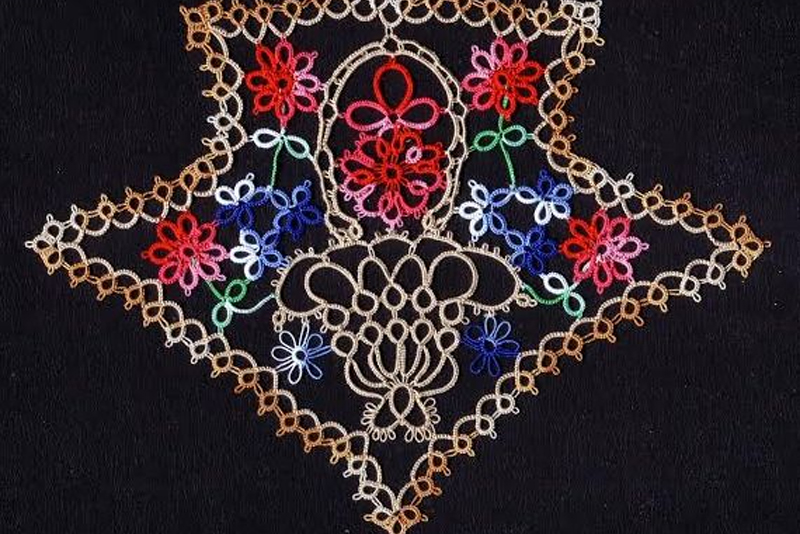 "Tatting with a Needle for Beginners" by Georgiana Bromley
The search for tatting patterns is never ending. It is always rewarding to find a missing title or, even better, an unknown title! This is one such find. From a list of duplicate books for sale on the Occhi tatting list from Germany, I spotted this title which was completely new to me. Much to my surprise it was published in the USA, Huntington Beach, California (CA) in 1989 by Georgiana Bromley.



Ms. Bromley learned needle tatting from Jules and (the late) Kaethe Kliot from the famous LACIS lace supplies store and museum in Berkeley, CA. She taught classes at the Needlepoint Junction in Huntington Beach, CA. This book contains the basic instructions for both left and right handed needle tatters. It also presents the instructions in a unique manner with many references to knitting.




Ms. Bromley draws a comparison between the wrapping of the first and second halves of the double stitch on the tatting needle to casting on in knitting, i.e., cast on to knit, followed by cast on to purl. In our research of vintage tatting patterns and terms, we have many times come across the term "purl." We see here a reason why it might have been used in the early days of tatting, both shuttle and needle and needle used as a shuttle tatting.



This is an 8.5" x 11" (20 x 28 cm) size paperbound stapled booklet with 19 black and white pages of text, patterns and illustrations. This sample page 13 shows the drawings for making a traditional "up" join. (Today the "down" join is more often used as it makes both sides of the join look alike.) A sample pattern included shows the use of most abbreviations still used today, R = ring, CH = chain, P = picot, CL = close, J = + or join, but there is no Reverse Work (RW.) Instead each tatted element ends with the note to Tie off = T. And K = knit, PU = purl, are also included.


The K and PU appear in the section on the "cording stitch" which introduces the basics of the node stitch as used in Victorian sets and rick rack or zig zag chains. Here the first half is done in a series of repetitions and then the tatter switches to the second half stitch for the next set of stitches and then repeats. This makes a chevron or zig zag looking chain.


There is some common sense information included for the beginner but many of the suggestions for supplies are outdated. The few patterns are of the very simplest design. This book will be of interest to the tatting historian or tatting book collector.


I acquired this book for my personal tatting reference library. - G. Seitz
You Should Also Read:
Needle Tatting Double Stitch
Needle Tatting a Ring
Joining Needle Tatted Rings


Related Articles
Editor's Picks Articles
Top Ten Articles
Previous Features
Site Map





Content copyright © 2019 by Georgia Seitz. All rights reserved.
This content was written by Georgia Seitz. If you wish to use this content in any manner, you need written permission. Contact Georgia Seitz for details.