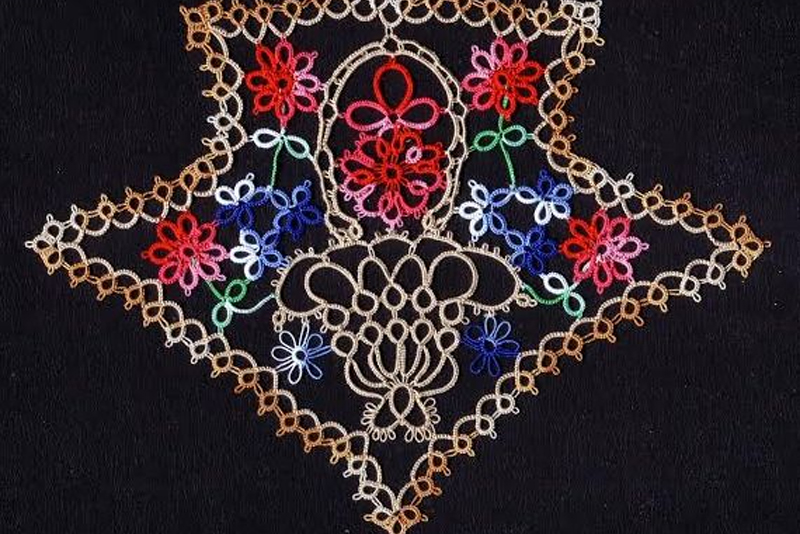 Superbowl Sunday Snowflake ©Georgia Seitz 1-31-99
This pattern is an exercise in the inward facing or down picot.
Begin with the center motif, a simple ring and chain repeat.
Ring (R) 6 - 2 - 6 reverse work (RW) (Note the text on the scan is wrong.)
Chain (CH) 4 - 4 RW
*R 6 + (join) 2 - 6 RW
CH 4 - 4 RW Repeat from * around.
Pitfalls:
1. The picots should be tiny as you want the rings snugged up against each other rather tight.
2. When making the joins use the down join (https://www.bellaonline.com/articles/art55501.asp)so that both sides of the rings look right side up.
3. When tatting the chains, tat the half stitch (HS) in reverse order so that the chain also looks front side up.
Optional:
On the last chain you MAY do a split chain if you prefer to avoid cutting ends and hiding them in the center motif. If you cut and tie, then attach the thread from the next round to a picot of a chain with a shuttle join.
The outer row is all chainwork.
Shuttle join to picot of chain of center motif
CH 10 make inward facing picot, very small, or use a space holder to create a space on the shuttle thread.
CH 6 insert another space holder
CH 4 - 4 join back to the second space
CH 6 join back to the first space
CH 10 shuttle join to the next picot of the next chain on the center motif. Repeat around.
Pitfalls:
1. The down picot or inward facing picot may be a loop of the core thread held out for later joining. You can use a paper clip, safety pin or even a loop of thread to create the space to which the chain joins later. (This is the same method used to make a self-closing mock ring.) Or,
2. You may reverse work, make a regular picot, reverse work again and continue. Or,
3. You may make a regular picot, fold it down and tat over it to hold it in position.
2. You can make the joins with a shuttle join or just slip the shuttle between the two threads of the chain.
3. Do not compress too tightly.


Related Articles
Editor's Picks Articles
Top Ten Articles
Previous Features
Site Map





Content copyright © 2022 by Georgia Seitz. All rights reserved.
This content was written by Georgia Seitz. If you wish to use this content in any manner, you need written permission. Contact Georgia Seitz for details.