Guest Author - Vivienne Oestergaard
Graduation is right around the corner and now is the perfect time to get those card making skillz out to create money holder gift cards for your graduate. There are many variations. This one is for the traditional paper money. Right…who gives money anymore? It's gift cards these days! Well, here is the basic one just in case you need one: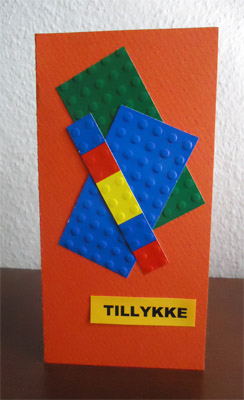 What you will need:
1 12x12 cardstock for the base
1-2 pattern papers for the fun stuff
gluestick
Cut the 12x12 cardstock to 7 x 10.5 inches. Divide it into 3 panels (2 folds) at 3.5" from each side. Score the folds to make it easier to crease.
On the right panel, slice a long triangular shape out for the fold that holds the cash.
With the pattern papers, cut similar shapes as the long triangular shape for layering. Adhere the panel on the bottom portion only. Adhere the patterned shaped paper over it.
With other pattern papers, cut shapes for the front. In my case, I used a Lego like paper (my nephew is crazy about Legos) to make a bit of a collage. I printed the word Congratulations (in Danish) on regular colored printing paper and cut it into a strip to adhere on the front of the card.
For other great ideas on money cards:
Great for Checks
Lovely gift card holder
Fun wallet idea
This one is fun and GORGEOUS
Use your supplies on hand and create your own version. Fit it to the recipient and you'll get lots of oohs and ahhs. Use clipart or vintage illustrations for the front of the card. It's only limited by your own imagination.