'Abdu'l-Bahá - The Perfect Example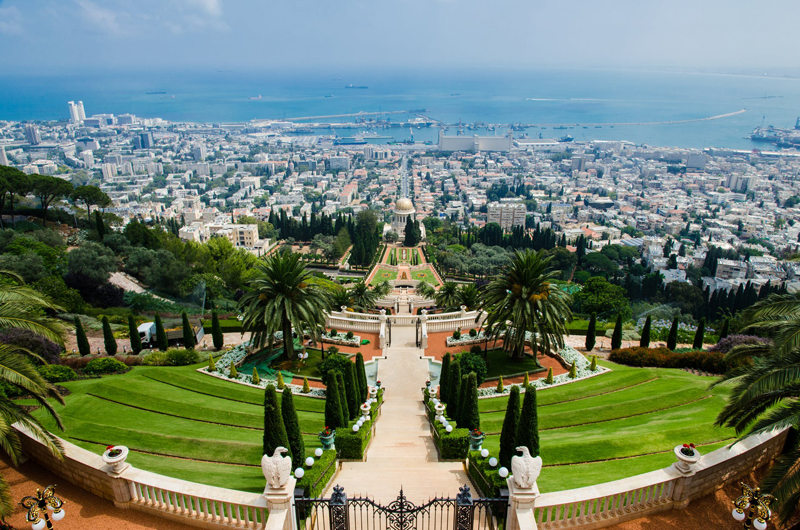 One very unique aspect of the Bahá'í Faith is that believers have a living model for the virtues espoused by their religion. Bahá'u'lláh, its Prophet/Founder, named His eldest living son to be the head of the Faith after Him, and encouraged Bahá'ís to use the example of his life.

'Abbás was born May 23, 1844, the same night that marks the beginning of the Bahá'í Calendar with the Declaration of The Báb. As a teenager, in exile with Bahá'u'lláh, 'Abbas began to shoulder the daily practical management of the large household. He also served as a competent secretary to His Father, and emissary to various government officials, even though there had never been a chance for him to attend any school. Bahá'u'lláh referred to Him as The Master, but 'Abdu'l-Bahá said, "As to my station, it is that of the servant of Bahá … the visible expression of servitude to the Threshold of the Abhá Beauty [Bahá'u'lláh]." - Selections from the Writings of 'Abdu'l-Bahá, p. 56

His wisdom and tact, gentleness and courtesy, gained respect and acceptance not only for his Father, but also for the Faith. He became known for his charity and good advice wherever they lived. After Bahá'u'lláh's passing in 1892, 'Abbas Effendi, as the Turks knew him, took the title 'Abdu'l-Bahá, and never used any other name, even though the British Empire conferred knighthood for feeding the starving of Palestine during the famine of World War I.

The Young Turk Rebellion in 1908 freed 'Abdu'l-Bahá from the political incarceration which began when he was exiled with his Father to Akka, Palestine. At more than 60 years old, He began to carry his Father's message of peace and unity, first to Europe and England, and then to the United States in 1912. There He traveled for 14 months, visiting 38 American and Canadian cities. The journeys helped consolidate the fledgling Western Bahá'í communities, and also attracted a good deal of sympathetic newspaper attention. He met with many prominent people, leaders of religious, political and philosophical thought, spoke from church pulpits and to peace societies and labor unions.

People who met Him tended to be overwhelmed by his sweetness and spirit, and often decided He must be a saint or even the return of Christ. 'Abdu'l-Bahá steadfastly refuted this: "O ye friends of God! 'Abdu'l-Bahá is the manifestation of Service, and not Christ. The Servant of humanity is he, and not a chief. Summon ye the people to the station of Service of 'Abdu'l-Bahá and not his Christhood." - From a letter sent to the friends in New York, January 1st, 1907

"He is, and should for all time be regarded, first and foremost, as the Center and Pivot of Bahá'u'lláh's peerless and all-enfolding Covenant, His most exalted handiwork, the stainless Mirror of His light, the perfect Exemplar of His teachings, the unerring Interpreter of His Word, the embodiment of every Bahá'í ideal, the incarnation of every Bahá'í virtue ... He is, above and beyond these appellations, the "Mystery of God"--an expression by which Bahá'u'lláh Himself has chosen to designate Him, and which, while it does not by any means justify us to assign to Him the station of Prophethood, indicates how in the person of 'Abdu'l-Bahá the incompatible characteristics of a human nature and superhuman knowledge and perfection have been blended and are completely harmonized." - Shoghi Effendi, The World Order of Bahá'u'lláh, p. 131-6

What that means to me is that I have a perfect example of how best to "live the life." 'Abdu'l-Bahá is not an impossible ideal. He was not an immortal Prophet, but rather, just as mortal as any one of us. When a virtue looks unreachable in midst of my daily life, when patience is wearing thin, I can look to Him for an example.

Examples are easy to find, since we have so many of 'Abdu'l-Bahá's writings and authenticated talks, not to mention over 27,000 letters. As the Interpreter of His Father's works, 'Abdu'l-Bahá spent His life answering questions and explaining and modeling the principles of the Bahá'í Faith, especially in relation to Western concerns and social issues.



Related Articles
Editor's Picks Articles
Top Ten Articles
Previous Features
Site Map





Content copyright © 2023 by Cheryll Schuette. All rights reserved.
This content was written by Cheryll Schuette. If you wish to use this content in any manner, you need written permission. Contact Cheryll Schuette for details.