Free Crochet Pattern - Quick & Cozy Infinity Cowl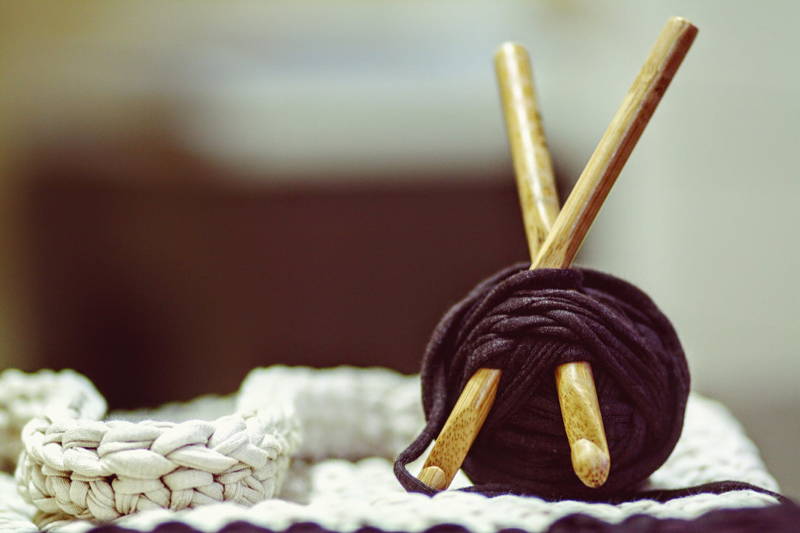 I'm a superfan of using real wool yarn for my favorite projects. There's a huge part of me that wishes everything in the world could be natural and simple. Maybe that's why I love to crochet. I feel like I'm doing one of the most natural and simple, yet profound, activities when I'm crocheting.
So, on a recent road trip, the early-morning sunshine got me wondering if I could recreate that pale yellow in a yarn using onion skins. One thing led to another, and I ended up dyeing merino wool in a weak onion skin bath, and asking Allison Barnes, an indie dyer and spinner local to me, to spin the wool in her signature thick and thin style.
Quick & Cozy Cowl
The result was two skeins of pale yellow, completely natural yarn. I knew I wanted to make a cowl with it, but every interesting stitch pattern I tried just came out wobbly.
In the end, I realized that the thick and thin texture of the yarn really is enough to make the simplest stitches interesting, and fiddling with more complicated stitches really just does this yarn a disservice...at least the stitches I was trying to use did! If you come up with something brilliant, I'd love to hear from you on the Facebook page (link at bottom)!
So, this cowl is extremely simple, and because of the large hook you'll be using, you should have no trouble finishing one in about an hour!
Please note that some of the links below are affiliate links and I will earn a commission if you purchase through those links. I have used all of the products listed below and recommend them because they are helpful and are from companies that I trust. Thanks for helping to support BellaOnline and our editors!
What You'll Need
- 25 mm crochet hook,
like this one from ChiaoGoo
- 8 oz. (2 skeins) of
Allison Barnes Collection
Thick & Thin Yarn(I only used half of the second skein, but yardage requirements will vary, depending on your gauge.)
- Tapestry needle to weave in ends,
like these on Amazon
- Crochet stitch markers
- Scissors to cut your yarn when finished with stitching.
Let's Begin
1. Begin by chaining 50. If you are a beginner, you may find the inconsistency in the yarn thickness daunting. But you should be able to see where the loops are formed in the chain, and the texture of the yarn is very forgiving. You won't need to worry about precisely using the same part of each chain for your next round.
2. Join with a slip stitch to your first stitch, chain 1, and SC into same stitch. Place a stitch marker in your first stitch. Continue to SC around your foundation chain, until you've completed 50 total stitches, and join with a slip stitch to the first stitch of the round.
3. Chain 1. SC into same stitch. SC 49, join with slip stitch.
4-6. Repeat round 3.
7. Chain 1. SC into same stitch. SC 49, join with slip stitch, and bind off. Weave in ends.
And there you have it! Enjoy your beautiful new cowl. Be sure to treat it like you would a cashmere sweater: handwash, or wash on wool cycle, lay flat to dry.
Allison Barnes on Etsy
BellaOnline Crochet Facebook page
Find it on Ravelry
You Should Also Read:
Free Pattern: Fingerless Gloves
Free Pattern - Venus Shell Cowl


Related Articles
Editor's Picks Articles
Top Ten Articles
Previous Features
Site Map





Content copyright © 2023 by Holly Messenger Aamot. All rights reserved.
This content was written by Holly Messenger Aamot. If you wish to use this content in any manner, you need written permission. Contact Holly Messenger Aamot for details.