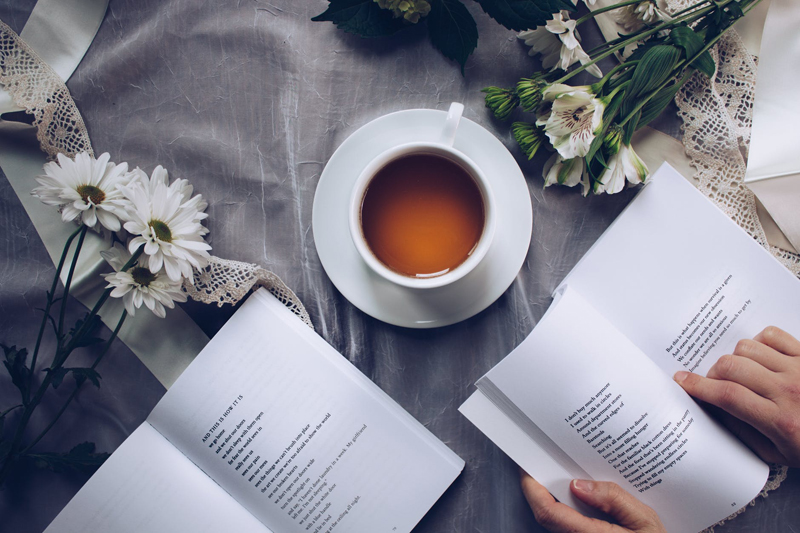 There's more than one way to look at a season. Seasonal poetry is tricky to write well, because it's such a popular topic. It's been done a thousand and one ways, by all sorts of poets, including the masters. Yet that doesn't mean you need to despair and throw down your pen forever. You can still write about the seasons, you just need to be conscious and careful.

Let's take autumn for our example.

Grab a pen and paper. Now close your eyes, take a deep breath, and think autumn. What sights, sounds, smells and tastes come to mind? Think on this for several minutes. Try digging beyond the first, initial thoughts (which, through no fault of our own, tend towards the generic and cliched). Reach beyond, deeper into the senses, through the layers. How does autumn feel to you? What about it is solid? Fleeting? Write down your impressions.

Now close your eyes again, and this time, summon up all your memories associated with autumn. What did autumn mean to you as a kid? Was it a time for starting school and buying new school supplies? Did you dive into big piles of leaves, or sneak apples from your neighbor's trees? Move further in time. What did autumn mean in your teens, twenties, thirties, etc.? How do you feel about autumn now? What has changed, and why? Was there one particularly memorable autumn (i.e., meeting someone for the first time, getting married, having children, experiencing a loss, etc.)? Write all these down (you can describe each one, or use key words to make a list to refer to later).

By now you should have plenty of material for a poem, or several. Choose the emotions and memories that feel the strongest, and that trigger the largest internal response. A poem written by a poet who feels and cares about its subject will always be superior to one written by an indifferent author. Your feelings come across through your words. Shape the poem, make it your own. Here are a few examples of autumn poems to further inspire:

Sonnet 73 (That time of year thou mayst in me behold) by William Shakespeare
In this sonnet, Shakespeare uses the idea of autumn as the "twilight" of life, the end of youth and beauty, and the beginning of old age and death. This common theme associates with autumn because of its connotation with harvest, the death of summer plants, and the oncoming barrenness of winter. Shakespeare's language is appropriately grim for this metaphor as "boughs [...] shake against the cold", birdsongs become "bare ruined choirs" and the "sunset fadeth in the west". The speaker lies "on the ashes of his youth", bemoaning the transformation to old age. In this case, the autumn of the poem is also the autumn of the speaker's life.


November Night by Adelaide Crapsey
Much of the beauty of a cinquain (a five-line poem) lies in its brevity. Crapsey exhorts the reader to "Listen!" to the sound of leaves falling. They are like "the steps of passing ghosts", barely discernable to the ear. The cinquain form does not allow for rambling, or extra, wasted words. Much like its shorter cousin, the haiku, a cinquain presents a single vivid image to be pondered by the reader. Crapsey's ghostly leaves are powerful. The poem ends with the reader still hanging on in the silence, listening for the steps, and wondering about their various meanings.


Fall by Edward Hirsch
This lovely poem is a great example of using specific moments to fill your poem and give it significance. First, Hirsh plays with the word "fall" and its meaning:

Fall, falling, fallen. That's the way the season
Changes its tense in the long-haired maples
That dot the road;

He then goes on to describe autumn, not just its colors and leaves, but as its moments experienced:

And the odor of burning leaves, a golden retriever
Loping down the center of a wide street and the sun
Setting behind smoke-filled trees in the distance

The reader can vividly imagine this setting, and experiences it through the poet's words. The leaves, the dog, the sun, all of it weaves together an image and feeling of autumn. Hirsch uses beautiful turns of phrase (such as: "it pulls us into its dusty, twilit pockets") to create the very essence of the atmosphere of autumn.


No! by Thomas Hood
Here, Thomas Hood creatively takes the first syllable of the autumn month November to describe the entire season ("No shade, no shine, no butterflies, no bees"). He uses the very name, a word which means autumn, to describe the season itself. Hood's poem, similar to Shakespeare's, takes a gloomy view of the season.


Fall in the Northland by Donald E. Felch
This poem exemplifies beautiful description, moving away from the gloom and doom descriptions of autumn to more beautiful natural scenes. Felch writes of "sparkles" that are "Etched on the windows for all soon to see". He describes sights: "Straw colored stalks with cobs hanging down / Stand in the fields of rich soil brown" and smells: "The smell of fresh leaves and woodsmoke will climb / Into a sky where they meet with the chill". In his poem, the cooler, harvesting aspect of fall is positive rather than negative.


Merry Autumn by Paul Laurence Dunbar
In a complete reversal from the tone of Shakespeare, Hood and others, Dunbar celebrates autumn. In his mind it is not a dismal season but a merry one. "It's all a farce, -these tales they tell / About the breezes sighing," he begins, "And moans astir o'er field and dell, / Because the year is dying." Dunbar steps away from the common and overused autumn/death metaphor and uses a new perspective on it. His autumn is happier, merry, filled with birds, butterflies and laughing creeks. "The seed burs all with laughter crack" and "leaves that should be dressed in black / Are all decked out in crimson." Rather than mourning, Dunbar's autumn is filled with merry-making.


The Weather in Verse by Marc Cook
Cook takes Dunbar's reversal one step further, and discredits all types of generic feelings and thoughts about the seasons. He observes that "writing verses on the several solar seasons / Is most uncertain business". He "respectfully decline[s]" a gloomy November sonnet because "the weather was as balmy as in Florida you'd find". Spring, as well, denies him the generic poem of warmth and new life when "while I sang of gentle Spring I swear it up and snowed!" Cook's poem mocks the idea of each season having just one set of mood and type of weather.

You Should Also Read:
Sonnet 73 by William Shakespeare
Merry Autumn by Paul Laurence Dunbar
The Weather in Verse by Marc Cook


Related Articles
Editor's Picks Articles
Top Ten Articles
Previous Features
Site Map





Content copyright © 2022 by Jessica Smith. All rights reserved.
This content was written by Jessica Smith. If you wish to use this content in any manner, you need written permission. Contact Karena Andrusyshyn for details.