Two Year Old Preschool Class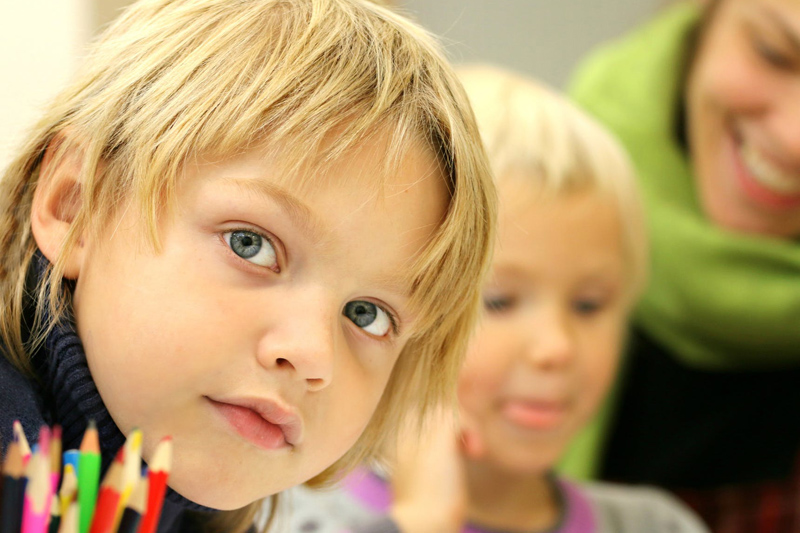 If you are wondering whether your precocious and socialized two year old might be ready for preschool you are not alone. Many parents today consider starting their child's educational experience as early as possible, whether it is due to work commitments or just to give their child an edge in the classroom. Typical programs for the transitional twos run two or three days a week maximum. Here are some guidelines for you to consider to determine if your preschooler is ready for this experience:

If he or she-

Is toilet trained
Can walk, run, climb, walk up and down stairs alone
Can throw balls and kick them forward
Can jump with two feet together.
Begins to play simple pretend games.
Is more sure of themselves than one-year-old children.
Can follow simple directions.
Can use three or more words in combination.
Can articulate and express their feelings and wishes.
Will use objects to represent other objects.
Can memorize short rhymes.
Will join in simple songs.
Can begin to think about doing something before doing it.
Will have trouble making choices, but have the desire to make choices.
Can play pat-a-cake and do simple finger plays.
Play in a sandbox nicely.
Is able to stack blocks and other objects.
Is interested in and able to safely play with play dough and finger paint.
Is ready to experience routines.

You should be prepared for your child to be exposed to a variety of resources and learning materials, such as:


Books
Flannel boards
Puppets
A weather chart
A daily calendar
Counting equipment, such as an abacus and manipulatives
Puzzles
Peg boards
Table top building and a variety of blocks
Toys
Stencils
Wheeled toys
Jungle Gyms
Slides
Balls,
Beanbags
Various outdoor play equipment
Lego/Duplo and Megablocks
Animal and people figures
Crayons
Paints
Paper
Scissors
Musical instruments such as a tambourine and drums
Dress-up clothes and a housekeeping area
Themes each month having to do with holidays, colors, shapes, numbers
and concepts

Consider with your significant other whether your preschool child is ready to try a day or two of a two year class. Visit the establishment and see your child's comfort level and adaptability.









Related Articles
Editor's Picks Articles
Top Ten Articles
Previous Features
Site Map





Content copyright © 2019 by Alissa Moy. All rights reserved.
This content was written by Alissa Moy. If you wish to use this content in any manner, you need written permission. Contact Amy Tradewell for details.