Book Review - Orchid grower's companion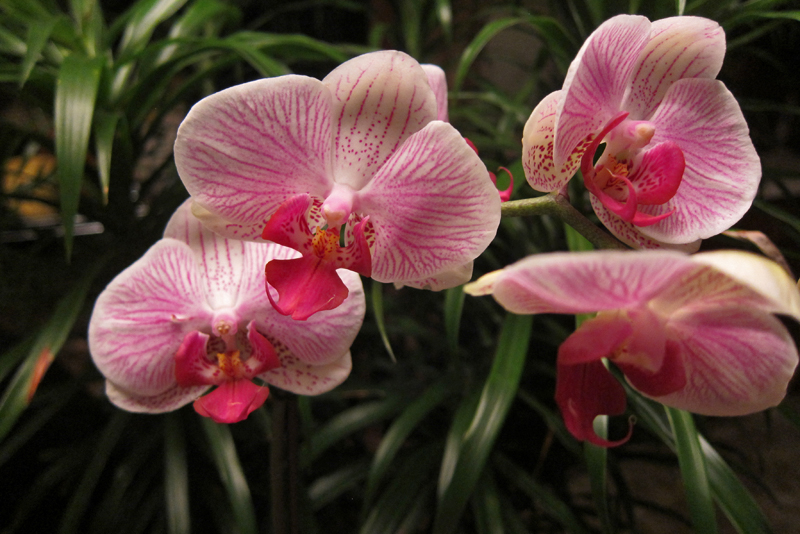 I recently received a copy of
Orchid grower's companion
by David P. Banks, an internationally known orchid grower and hybridizer from Sydney, Australia, published by
Timber Press
. It is a rare combination of good information in a "coffee table" book format illustrated with incredible photography.
The book is structured in three parts: The Nature of Orchids, Cultivation and Care, and an Orchid Directory with photographs and cultural care notations.
The Nature of Orchids
explains what makes an orchid an orchid. It illustrates the physical flower structure, seed structure and roots that make up the family. Then the purpose for the wonderful flowers that we so prize is explained in the section that elaborates on the sometimes bizarre pollination mechanisms the plants have developed in order to reproduce. A good explanation of the names of orchids follows as well as a brief history of orchid cultivation and collection during the 19th and 20th centuries. A recap of the geographical distribution of the species and current trends in conservation rounds out the introductory section.
The meat of the book is in the
Cultivation and Care
section of the book. There is an introductory section on indoor growing and the plants most suited for this. A section on outdoor growing which is lacking in most other books follows. He recommends orchids for tree and rock growing as well as plants for a shadehouse and thoughts on how to position and cover it. And then there is a brief section on greenhouse growing. Watering, temperature requirements, fertilizing sections cover these most important areas of orchid culture. The potting section includes a very good discussion on repotting with excellent photographs of roots as well as a complete review of potting materials suitable for orchids. The Pests and Diseases section has some good photographs of various small pests such as some of the more common viruses and several varieties of insect pests. The Propagation section is probably the most complete in the Cultivation and Care section. It shows step by step division and back cutting instructions with accompanying photographs as well as discussion aerial growths, leaf cuttings and stem cuttings. There are also brief sections on seeds and tissue culture.
The Orchid Directory
is the photographic section of the book and provides pictures of the variety and diversity in the orchid world. The sections are based on related genera. Each species shows the flower as well as cultural requirements in the areas of temperature, light and whether or not the flower is perfumed. Unlike many other books, this one includes a number of the most popular hybrids and intergeneric hybrids.


Editor's Picks Articles
Top Ten Articles
Previous Features
Site Map





Content copyright © 2023 by Susan Taylor. All rights reserved.
This content was written by Susan Taylor. If you wish to use this content in any manner, you need written permission. Contact Anu Dharmani for details.