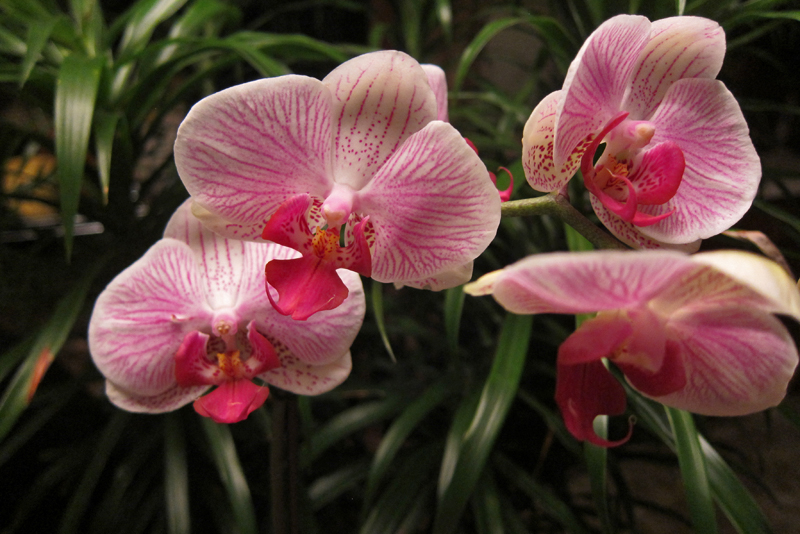 This is a continuation of the Tips articles which were posted previously. If you have any tips you'd like to contribute, please send me an e-mail with "Tips" in the subject line. I would like to thank the members of the AOS Forum, Orchid Dreams Forum and the Houston Orchid Society for the tips they contributed.

Read everything you can before buying. Read, read, read! Learn about what genera will survive your growing conditions before plunking down your money. There are so many varieties of orchids that there will be many that will grow well in your conditions—however there will also be some that will not grow where you live. Be sure to know the difference before you buy!!

Tip for growing Phragmipedium Hybrids. Set each pot in a dish of water or in a saucer. Water the plant as normal from the top and empty the contained water about once a week to eliminate salt buildup. Phrags do not react well if they become dry and this keeps them moist all the time.

Use Diatomaceous (die-uh-toe-may-shus) Earth (DE) as pest preventive maintenance. DE consists of the broken up silica cell walls of microalgae, called diatoms and has the property of killing insects by lodging in their hard exoskeleton and slicing through causing the insects to die by losing all their fluids. DE is ecologically safe to the environment, non-poisonous and insects cannot develop an immunity to it. DE is also a killer of slugs and snails. Used as a preventative, it can help keep down the population of pests in your plants.

Water only with air-temperature water. In order to keep from shocking your plants, water only with water that is approximately the same temperature as the air. This is especially important for those who have plants outdoors or in a greenhouse during the winter months. The easiest way to do this is to draw your water the day/night before you plan to water and let the water sit. Water that is too cold can cause brown spotting on your plants. Spotting of this kind never goes away…until the leaf dies and is discarded.

Another staking tip. Use For those large spikes that need staking, try long pieces of dried curly willow branch. These are readily available at most craft or floral stores. Use the curls in the branch to support your spikes! This idea is awesome for those huge 'Shari Baby' inflorescence. The willows are inexpensive and can easily be broken into smaller pieces should you like to add them for smaller plants.



Related Articles
Editor's Picks Articles
Top Ten Articles
Previous Features
Site Map





Content copyright © 2022 by Susan Taylor. All rights reserved.
This content was written by Susan Taylor. If you wish to use this content in any manner, you need written permission. Contact Anu Dharmani for details.