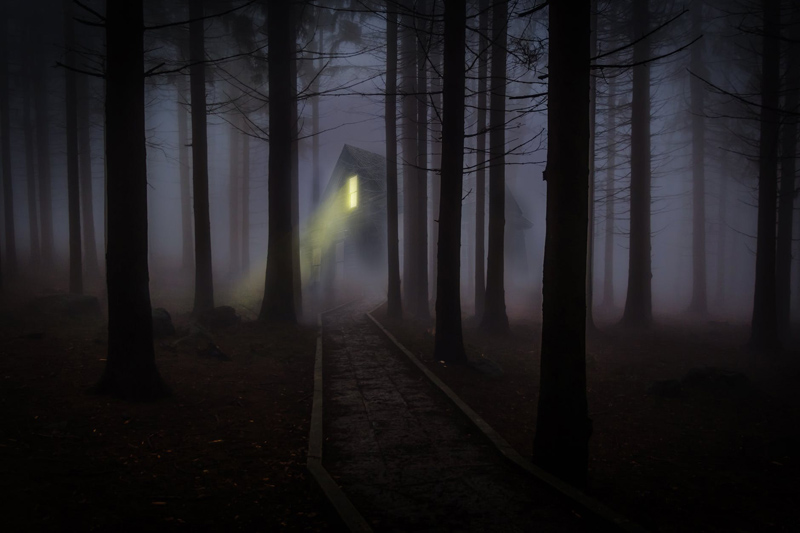 In Premonition, released in 2007, Linda Hanson (Sandra Bullock) is a stay at home mom of two young daughters. Her husband Jim (Julian McMahon) goes to his office; Linda does the school run and the laundry. Life has become a matter of routine until the day – a Thursday – when the sheriff comes to the door and tells Linda that Jim has been killed in a road accident. Grief stricken, Linda goes through the motions of picking up her daughters and trying to explain the tragedy to them. Linda's mother comes to stay and tries to be of help, but Linda just can't communicate. At last she curls up on the sofa, fully clothed and holding a framed wedding picture of herself and Jim.

Next morning, and Linda awakes in her bed, wearing a nightgown. Going downstairs she finds Jim, alive and well, getting ready to leave for work. Linda realises that this is Monday morning. Was the whole of what she experienced as Thursday - to her the previous day - including the news of Jim's death, nothing but a nightmare? Or could she have experienced a premonition of what the real Thursday will bring?

As the days follow, the mystery becomes more impenetrable. We do not know if Linda is having premonitions or actually experiencing time differently. Since the title of the movie is Premonition, we must assume the former, but this makes the story no less confusing for the audience. We see Linda living in what seems to her, and us, a jumble of past, present and future. She attends Jim's funeral one day, the next she wakes and he's in the shower.

Director Mennan Yapo and writer Bill Kelly do not give us any neat explanations. What happens in terms of Jim and Linda's relationship in the penultimate scene does give us some closure and an idea as to why the events of the week occurred as they did. The very final scene has been criticized as unnecessary – I'm unsure whether I agree with this or not. Perhaps the director wanted to end on a note of optimism, which is not a bad thing, but I do feel that it detracts from the emotional resolution that we experienced just before.

Sandra Bullock is a very talented actress, and is always a pleasure to watch. In Premonition she gives her usual intelligent and emotionally invested performance, as a woman who lives through the impossible but has the strength of mind to make sense of it. She challenges the future, and even manages to bring an element of change to it. Julian McMahon makes an attractive and thoughtful Jim, a man whose life is veering in a direction he does not, ultimately, wish to take.

Premonition is an atmospheric, involving, sometimes very confusing movie. The lead actors are engaging and credible in their roles, and I feel that they carry the movie more than the plotline does. Even so, I would recommend Premonition as an interesting mystery and worth viewing.

Note: I have 'Premonition' on DVD as part of my personal collection.




Related Articles
Editor's Picks Articles
Top Ten Articles
Previous Features
Site Map





Content copyright © 2023 by Grace Rostoker. All rights reserved.
This content was written by Grace Rostoker. If you wish to use this content in any manner, you need written permission. Contact Grace Rostoker for details.