Four Thoughts That Turn the Mind to the Dharma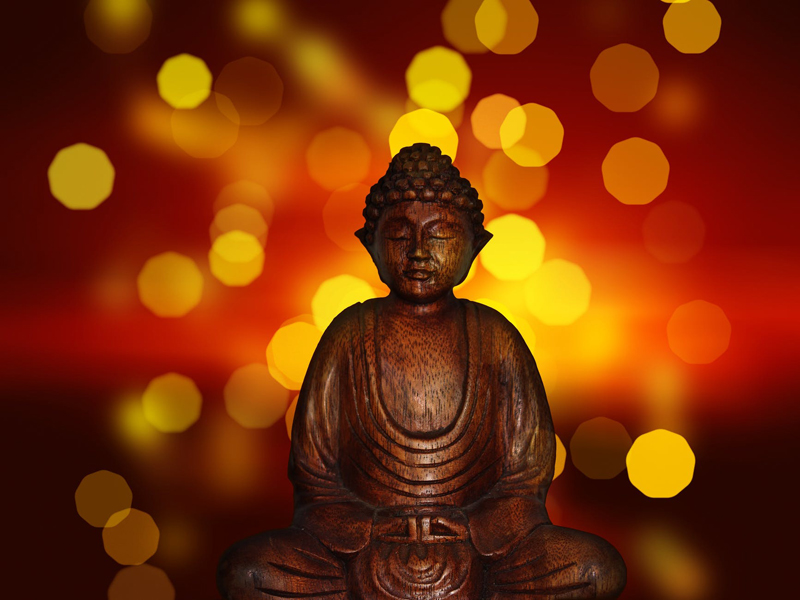 The four thoughts that turn the mind to the dharma are foundation understandings we can strive to cultivate as a foundation for our Buddhist practice. They are also sometimes called the 'four reminders', 'four mind-changers', or 'four thoughts that turn the mind from samsara'. Each one helps us cut through the usual mental chatter, busyness, or sense of self-importance that prevents us from devoting ourselves to spiritual practice, however much we may feel that we would like to. They are like an instant prioritization tool.

The four thoughts are:

1) Appreciation for our human birth. To be born human means that we have the capacity, in the form of our human mind and body, to study the dharma and to pursue spiritual practice. We can ask questions, we are self-aware, and we are capable of self-inquiry. If we have come across the four thoughts, then by definition we also have had the great good fortune to come in contact with dharma teachings. If we are also fortunate enough to have a life in which we are not simply scrabbling for day-to-day survival then we are even more fortunate. Realizing how rare and precious this set of circumstances is, by looking around the world and seeing how few beings have them, helps us cultivate the resolve not to waste this opportunity.

2) Impermanence. Once we realize our good fortune, we can also quickly realize that we are not guaranteed of how long it will last. We do not know when our circumstances will change, or when death will come. This opportunity to grow spiritually and practice diligently will not last forever. Realizing this can help us cut through habits of saying 'I'll focus on my spirituality later on, when my life is calmer.' We can focus on practicing now, in whatever form it takes.

3) Karma. An understanding of karma is key to us taking responsibility for our thoughts and actions. Karma is cause and effect, and realizing that every thought and action we engage in has a ripple effect, for both ourselves and others, motivates us to engage in virtuous ones. Our desire to do so and to improve our karma, and thus our own state of awareness, drives our practice, because we can clearly see how meditation, mindfulness, and any other practices we are engaged in helps us to honestly face our thoughts and actions and cultivate more positive ones. An understanding of karma also fuels our belief that we can work towards liberation – that it is not out of our own control.

4) Samsara is suffering. Samsara refers to all the realms and forms we might incarnate into – all of the states of existence. In every state, suffering is built into life. As humans, we know that no one escapes illness, aging or death. Even if we have a very fortunate life, we will suffer at the hands of these three inescapable stages of human life. Understanding this helps us to realize that the way out of suffering is our spiritual practice, so that we may reach the depths of understanding of the Buddha, and change our relationship to suffering itself. We cannot simply strive to 'better' our circumstances – more money, travel, or even love will not grant us permanent reprieve. Liberation from suffering only comes through spiritual realization.

Contemplating these four thoughts is designed to awaken a true desire to practice within us, so that our practice is grounded in real motivation, not simply in a desire to fit in, gain approval, or check off some 'to do' item on our life goal list. Deeply understanding these four thoughts cultivates true and pure motivation. For this reason, they are part of the preliminary practices, or ngondro, of Tibetan Buddhism, and there are many detailed contemplations and practices associated with deepening one's understanding of each.

However, these four thoughts can motivate any spiritual seekers' journey. Many people's spiritual interests are kindled when they go through a particularly difficult time in their lives, because their mind is naturally forced to realize one or more of these thoughts. When we are not in crises, it is easy to lose our focus, and to get caught up in the allure of daily life, and not practice, or to do it half-heartedly. Turning our mind to the four thoughts can help us re-prioritize and develop a true desire to deepen our spiritual understanding.




Related Articles
Editor's Picks Articles
Top Ten Articles
Previous Features
Site Map



Follow @mommymystic
Tweet



Content copyright © 2023 by Lisa Erickson. All rights reserved.
This content was written by Lisa Erickson. If you wish to use this content in any manner, you need written permission. Contact Lisa Erickson for details.