Memories of Tatting at the Fair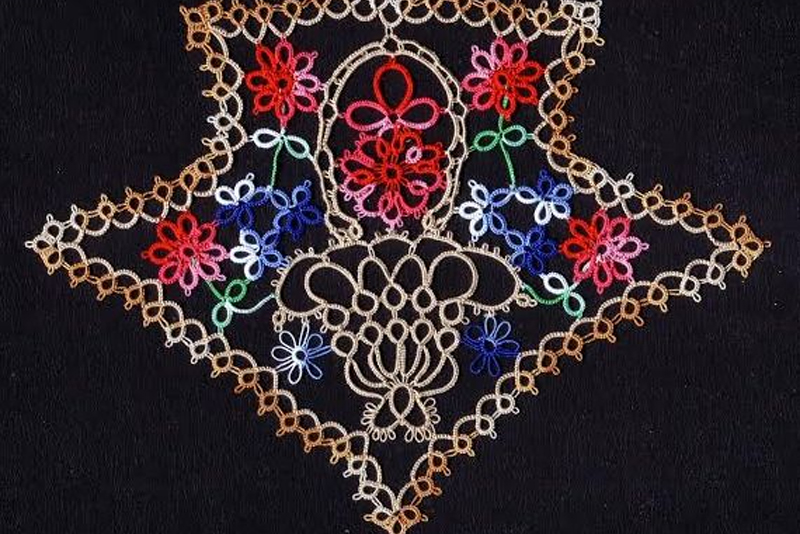 Tatting at the Fair
I do enjoy going to the fair every summer. Lemon Shake-ups, corn dogs on a stick, black walnut taffy, red candy apples and all kinds of decadent midway treats make each visit memorable (and not just for the extra pounds it puts on me.) My memories of the fair go back more than 60 years. The Cumberland County Illinois fair was founded in 1888. As a young man my great-grandfather helped to put up the grandstand and made the family "stockholders." Being a stockholder meant we got free stabling but now it's a parking pass every year. But it was my great-grandmother whom I remember most.



I know the first time we went I was so small that I needed help seeing over the rail of the box seats of the grandstand. Mom Spence and I sat next to the track so we could use the rail to "place our bets." Yes, indeed, my great-grandmother gambled during the fair week every year. The fair is still famous for the horse races. Less for thoroughbred racing and more for sulky or harness racing. All the horses have colors and numbers and they would strut before the grandstand before each race. The Mom Spence and I would each choose a horse and put down a nickel on the rail.



After the races we were off to the exhibits. Flowers, cookies, honey, jellies and needlework of all kinds. I remember little of that part of the fair. But it must have influenced me since as an adult I entered tatting at the fair for years in Alaska until I became a judge. And I try to encourage all tatters to participate in their local fairs.


So after the sulky races were over today (yes I am still betting on them, but now it is a quarter, just 25 cents, with my husband) I headed over the arts pavilion. The room was hung with quilts from end to end and on the sides. Lots of needlework, photography and paintings. We had to look hard but we did find some tatting, too.

This year I found 8 entries with tatting.








This purple and green doily was about 14" in diameter. The ribbons were not marked with the tatter's names. First place.




Also receiving first place ribbons were this tatted cross and the traditional hen and chicks tatted edging on this pillow case. Both of these pieces were tatted in multi color thread. In the past multi color thread has not scored as well with judges as solid colors, especially white, so I am glad to see these did well.








Two additional edgings got second place red ribbons.




Three entries had snowflakes. This set of 5 snowflakes really should have scored higher. But, judging is subjective in the end. Sadly, the last item I found was a tatted angel but it had not been judged. Perhaps the tatter was too shy or the entry was late arriving. It is clear that parts of the angel are well tatted and parts show that there was a struggle to get it right. It should at least have received an honorable mention!



How was your local fair this year? Did you enter any tatting? If you have photos you would like to share please email me at BellaOnline.com.






Related Articles
Editor's Picks Articles
Top Ten Articles
Previous Features
Site Map





Content copyright © 2023 by Georgia Seitz. All rights reserved.
This content was written by Georgia Seitz. If you wish to use this content in any manner, you need written permission. Contact Georgia Seitz for details.