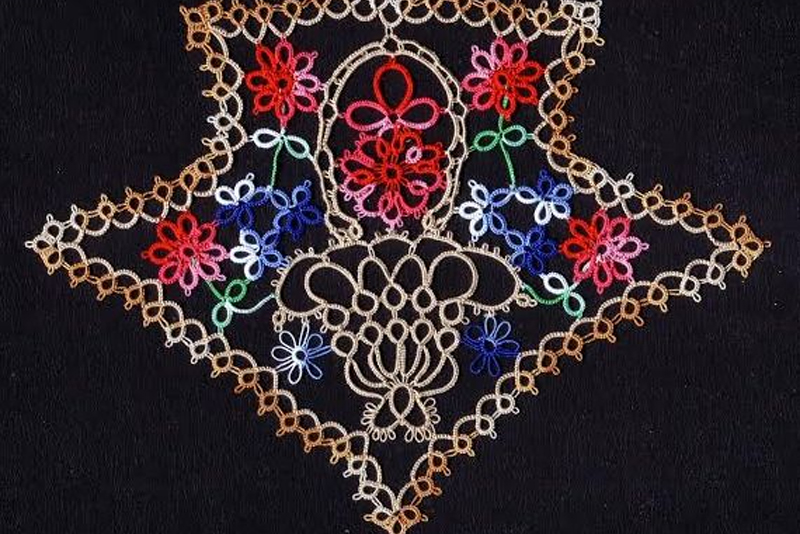 Searching the Family Tree of Tatting
Over a recent long weekend holiday I decided to take a break from my normal routine of tatting, reading, tatting, stamp collecting, tatting, modernizing patterns, cooking (a little), tatting, housework (even less) and tatting. So I started inputting the data I had collected on my family tree. Such wonderful information I found, like a 3rd great-grandma known as the "Woman of Sighs." It seems she was tenderhearted and took in all the homeless. And a Betsy Baker 7 generations back who was remembered has having gold colored slippers in which she danced until the toes wore out. And then there was a gentleman named Callahan who died at the Battle of Tippecanoe. Unfortunately, he was on the "wrong" side. I also found a fellow named DeWitt from France who arrived in the USA on the Ship Wellington. He was listed as a "gentleman with servant." Nothing else.


And I got to comparing notes in my mind about the origins or "family tree" of tatting. There are several tatters searching or information. And we do find tantalizing snippets of info in literary references. But actual "facts" are harder to find. These facts have been shared with me.



"The Female's Friend and General Domestic Advisor" by Robert Huish, @ 1837 contained sewing patterns. One pattern which looked like it might have been a collar had a note that is was perfect for a tatted or other narrow edging. No instructions, nothing else.



At least "The Ladies' Workbook" pub. 1843 actually gave directions for using a "tatting needle" used as if it were a "tatting" shuttle. A good step forward. And just three years later, Mrs. Lambert's 1846 booklet gave instructions for shuttle tatting and an illustration of a shuttle and lace in progress.



Then The Ladies Work-Box Companion, "A Handbook of Knitting, Netting, Tatting, and Berlin Work", published in 1849 again mentioned the tatting needle used as if it were a shuttle. It also had one note which mentioned sewing the "scallops" together so it shows that the tatted join was not yet in use.



And then along came Eleonore....



In 1850 "The Tatting Book" by Mlle Eleonore Riego de la Branchardiere was published and tatting has bloomed and flourished ever since. The preface to this book contains some fine hints as how this came about.



"Preface Feb. 14 1850


"This work is of very ancient origin, and one of the many stitches used in Point lace, in which indeed every variety of stitch that can be formed by a sewing needle is to be found : it was also worked with a shuttle and pin, forming coarse trimmings, &, consisting of small pieces worked separately, afterwards tacked on a paper pattern and sewn together with a very fine needle and thread, a process extremely tedious and tiring to the eyesight. In this state it has recently been revived in France under the title of "Frivolite."




I have been much solicited for some time past to introduce the work in England, but have delayed doing so until I could simplify the mode of working, and endeavour to render it suitable to the tastes of the English lady : for I considered that the old system required more time in the completion than the most elaborate design in crochet. To obviate the difficulties above mentioned, I have substituted a "Netting Needle," for the "Shuttle," which has enabled me to attach and shape the patterns while working; and where the loops are too small to admit of the netting needle passing through, I have given directions for using a sewing needle instead."



The confusion between the "tatting needle" and the "tatting shuttle" in the second half of the 19th century resulted in puzzling patterns. But as we learn more about the history of tatting, our new knowledge better prepares us to tackle the older patterns once again. So don't be afraid to "branch out" and try some of the intricate designs in the old books.

Happy Tatting!


You Should Also Read:
History of Tatting, A work in Progress.


Related Articles
Editor's Picks Articles
Top Ten Articles
Previous Features
Site Map





Content copyright © 2023 by Georgia Seitz. All rights reserved.
This content was written by Georgia Seitz. If you wish to use this content in any manner, you need written permission. Contact Georgia Seitz for details.