5 Designs by Winifred Worth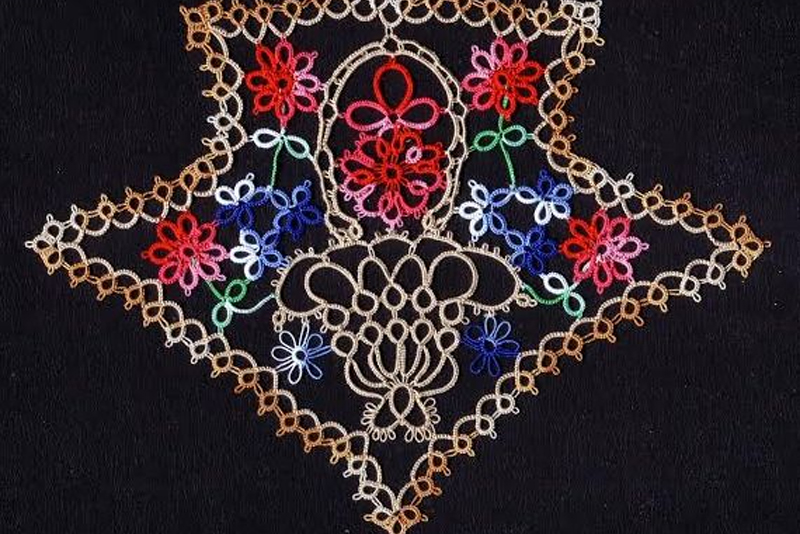 5 Designs by Winifred Worth
I have been studying the difference in the works of Winifred Clark and Winifred Worth. I found this page from pg 13 of Winifred Worth's "Crochet & Tatting, Vol. 1." which has 5 common tatting designs. I also found that it had been published in the Jackson Citizen Patriot on Sept. 23,1917. I dismissed these designs as basic and often seen and filed the pages away. But something made me go back and read the pages again. I am very glad I did.




It is design 5 which was calling me to look more closely at it. It is a round center ring surrounded by alternating large and small rings. From the vintage illustration I could not tell if the small rings joined but it was obvious that the larger rings joined at the side. Still, it was an everyday familiar construction. I read the double stitch counts...ah, there it was that little bit of info that had been tickling the back of my mind. Half stitches!



Here is the modernized pattern:



Center ring is tatted with total 30 ds and 12 picot. The directions read:

R 2.5 ds and 1 picot alternating.

Instead of cutting the thread, tat ring short one picot and use that spot to climb out with a mock picot.

Leave as little bare thread as possible between the small and large rings on the next row.

Using the tail tat one split ring.

SR 2.5 - 1.5 / 2.5 - 1.5 clr dnrw

Large ring 4 - 4 - 4 - 4 clr rw

*Small ring 1.5 - 2.5 + (join to next picot on center ring)2.5 - 1.5 clr rw

Large ring 4 - 4 + (join to previous large ring)4 - 4 clr rw

*Repeat around until "wheel is perfect."




So why 1.5 ds? First half, second half, first half, picot. Then the next segment is 2.5 ds, first half, second half, first half, second half, first half, picot. The picot is being placed between two half stitches and not between two double stitches. There are two other examples of patterns using half stitches that come to mind.




The late Jan Stawasz, a gentleman tatter from Poland developed "Jan's Method" which shifts the placement of the picot one half stitch as seen above. In the early works of Mlle. Eleonore Riego de la Branchardiere I believe this is also seen. But today's tatting designers place the picot between the second half stitch and the first half stitch of the following double stitch.



So, this is one vintage pattern that I hope you will try out. I will gladly post any models you send in to share.










You Should Also Read:
Jan Stawasz, Gentleman Tatter from Poland


Related Articles
Editor's Picks Articles
Top Ten Articles
Previous Features
Site Map





Content copyright © 2023 by Georgia Seitz. All rights reserved.
This content was written by Georgia Seitz. If you wish to use this content in any manner, you need written permission. Contact Georgia Seitz for details.