Imported Designs of Tatting Book #77 8163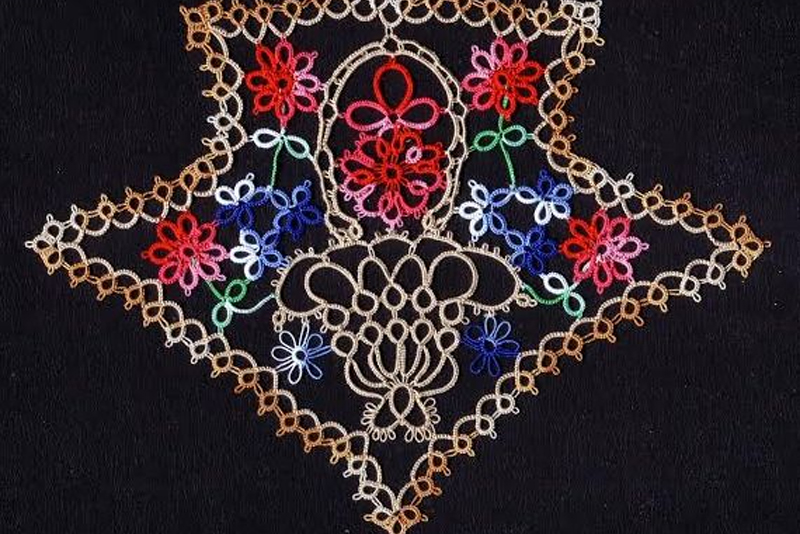 Imported Designs of Tatting Book #77, 1936
This pattern book has a colorized cover but all black and photos in it. It has 20 pages. There are 67 patterns without instructions and no double stitch counts at all! There is a 3-pg tutorial on how to tat and a comparison chart of finished tatted pieces showing the results of different size threads. However, with a clear photo and a numbered diagram, the tatter can recreate all the patterns in this book easily. This booklet was published with photos of the tatting only. No instructions, no patterns. Many of the designs appeared in other publications over the years also.




This pattern is an exercise in the use of the "onion ring" join. This simple triangle may be tatted as rings surrounded by chains or as "onion rings", i.e., rings around rings. It is necessary to use the ball thread join to make the outer layer of this ring close properly. If the shuttle join is used (as in surrounding it with a chain instead of a ring), then the thread locks up and the ring will not close. Begin at the side set of two small rings.






Motif #8163 pg. 10



R 5 - 5 clr dnrw Leave no space and repeat ring. RW

CH 5 - 5 rw

*Inner ring 15 - (small) 15 clr dnrw. Rotate ring to the right slightly and begin outer ring.

R 7 + (join to last small ring) 4 - 4 - 4 + (onion ring join) followed by picot 4 - 4 - 4 - 7 clr rw

CH 5 - 5 rw

R 5 +(join to last picot of outer ring) 5 clr dnrw Leave no space and repeat ring. RW

CH 5 + (joint to previous chain) 5 rw*

Repeat * to * twice more joining last small ring to the last picot of the outer ring of last onion ring.








Notes: The original model shows great gaps of thread between the bottoms of the small side rings. To prevent this gapsosis, leave no space between the close of the first ring and the first half stitch. The three picots which join the chains need to be regular in size so that one space is not larger than the next.

You Should Also Read:
Onion Ring Join with Needle
Onion Ring Tutorial


Related Articles
Editor's Picks Articles
Top Ten Articles
Previous Features
Site Map





Content copyright © 2023 by Georgia Seitz. All rights reserved.
This content was written by Georgia Seitz. If you wish to use this content in any manner, you need written permission. Contact Georgia Seitz for details.