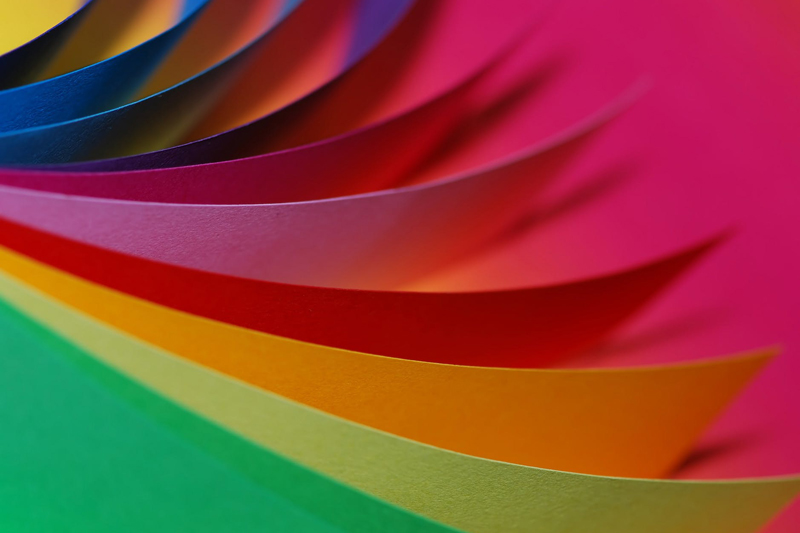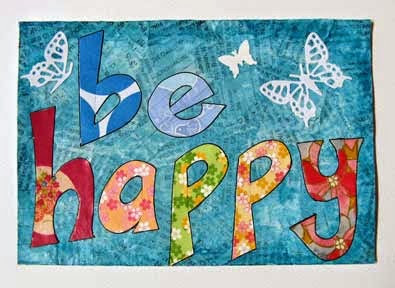 Today's project combines a bit of collage and cutout letters to make a postcard. The background of our sample postcard is a simple collage consisting of text paper from a discarded catalog, gel medium and acrylic paint. The lettering is hand-drawn, transferred to patterned paper, and glued onto the background. Additional details were added with a waterproof pen. Here are the steps in greater detail:
You will need:
* Medium weight cardstock, 6 x 4 inches
* Page of text from discarded book or magazine
* Assorted scraps of patterned paper
* Punched or die cut shapes (optional)
* Gel medium
* Acrylic paints: white, and other colors of your choice
* Palette or small container to mix acrylic wash
* Brush
* Water
* Black waterproof pen
* Pencil
* Eraser
* Scissors
Prepare the background.
Tear the page of text into squares about an inch in size, then adhere them randomly to the cardstock with acrylic gel medium. Overlap the pieces so that the cardstock doesn't show through. Apply a coat of gel medium over the paper and let dry. Using a dry brush, paint a thin layer of white acrylic paint over the background, allowing parts of the text to show through. Painting the background white pushes the text back so that it doesn't stand out too much to distract the viewer from the main subject (the quotation), but still adds a layer of interest to the overall piece. When the paint is dry, apply another coat of gel medium and let dry. In a small container, mix together a bit of acrylic paint in your choice of color with some water to create a thin wash, or glaze. Paint this over the entire background. Let this dry, then paint around the edges to create a darker border. Set aside to dry.
Prepare the lettering.
On a piece of scrap paper, sketch out the words using a pencil. An easy way to do this, as taught by artist Joanne Sharpe, is to simply write down the words in your own handwriting, trace a border around each letter to make it thicker, then erase the original lines in the middle. Cut out the letters. Working with one letter at a time, apply gel medium to the front of the letter, and stick the letter to the back side of the patterned paper. Cut out the letters with a sharp pair of scissors. Arrange the letters onto the background and stick in place with gel medium. Apply a thin layer of gel medium over the letters and let dry. With a black fine-tipped pen, trace around the letters to make them stand out. You may also want to add more details by doodling on or around the letters. Attach other embellishments as you wish, such as punched or die cut shapes. Apply a final coat of gel medium over the finished postcard to seal it.


Related Articles
Editor's Picks Articles
Top Ten Articles
Previous Features
Site Map





Content copyright © 2023 by Mia C. Goloy. All rights reserved.
This content was written by Mia C. Goloy. If you wish to use this content in any manner, you need written permission. Contact Mia C. Goloy for details.