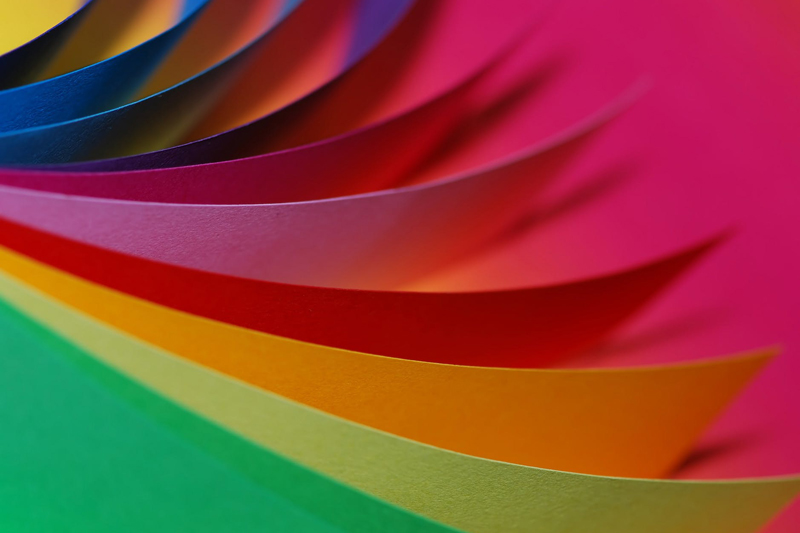 As the cliché goes, a picture paints a thousand words, but some craft and art projects simply can't do without text. Sentiments are an essential part of greeting cards and gift tags, of course, while stamped words and found text often end up on altered art and other mixed media pieces. Beautifully rendered letters in the form of inspirational quotes are quite popular too, with the words themselves being the focal point. In this article we'll look at different ways of adding text to projects, whether you're working on a greeting card, an artist trading card (ATC) or an inspirational poster.

Handwriting. This is perhaps one of the most versatile ways of adding text to a project, as you can readily adjust the size and position of the text, and use a variety of writing implements to suit your needs – pens and markers, color pencils and crayons, and more. You can also write using a paintbrush and water-based paints and inks. Of course, not all of us are happy with the way our own writing looks, so consider the methods below.

Machine-generated text. This method uses some sort of device to produce text: a computer printer, a typewriter, or a Dymo, for instance. Computer-printed text is the most flexible in terms of design, as you can use a wide range of fonts, apply different sizes and styles, convert the text to an image that you can further manipulate, and then print it out when you're happy with the results. A typewriter is less flexible, but works great for producing uniform lines or blocks of text on paper with a vintage feel to them. A Dymo machine also produces uniform text embossed on self-adhesive plastic strips, and is perfect for adding a bit of 70's groove to retro–themed projects.

Rubber stamping. This method is popular among crafters because you can quickly and easily add pre-defined text to a variety of surfaces, depending on the type of ink you use. Rubber stamps are easy to find, and are available as alphabets or individual letters, as words, or as phrases like sentiments. Alphabets are useful for spelling out words or short phrases while sentiment stamps take the guesswork out of spacing and aligning separate words when adding them to a surface.

Rub-ons. Rub-ons are another nifty way to add text to greeting cards and scrapbook pages, giving the impression that the text is actually printed on the surface. It's mess-free too, as no adhesives are required; just cut out the rub-on, position it on the surface, and apply pressure using a Popsicle stick to transfer it.

Punched and die cut text. Punched and die cut text adds dimension to a project, especially in the case of chipboard or heavy cardstock. Die cut letters and words can be bought online and are good for one-off projects, especially if you don't have nor want to invest in a die cutting system, but you may want to get the actual cutting die if you already have a die cut machine and intend to make multiple copies of your project. Craft punches on the other hand, are commonly available as single letters, and you can buy either a whole set or just the letters you need.

Stickers. Alpha stickers and words are similar to die cut and punched text, but are easier and less messy to work with, thanks to their adhesive backing. Get laser cut foil stickers if you want intricate, shiny sentiments, or glitter stickers to add instant glam to a project.

There are also scrapbook embellishments like tags and labels with printed sentiments that you can simply peel off and stick to your project.

Stencils. Stencils are available as letters and words, and are made from brass, plastic, vinyl, or cardboard. Brass stencils and a stylus are used for embossing text directly onto vellum or cardstock, but can also be used with fine-tipped pens and markers – much like plastic letter guides – to trace text onto paper. Plastic stencils work best with ink pads and paints, whether dabbed on with a brush or sprayed with a mister. Cardboard stencils are not very durable and soon accumulate paint and lose their shape after repeated use.

Found text. Found text, that is, words cut out from old books and magazines, junk mail and other ephemera are perfect for collages and altered art projects. Cut or tear out individual words and rearrange them to form phrases and sentences, or cut out letters in different typefaces from magazines and glue them in place for a ransom-letter style.

Packaging tape transfer. Here's one technique that's popular for altered art. Use text printed on a toner-based laser printer or photocopied on a toner-based copier. Cut out the text, cover it completely with a wide strip of clear packaging tape, and burnish well. Soak the tape and paper in water for a few minutes, then rub off the paper completely to leave the text on the tape. Adhere to your project using gel medium.



Related Articles
Editor's Picks Articles
Top Ten Articles
Previous Features
Site Map





Content copyright © 2023 by Mia C. Goloy. All rights reserved.
This content was written by Mia C. Goloy. If you wish to use this content in any manner, you need written permission. Contact Mia C. Goloy for details.