Imported Designs of Tatting Book #77 861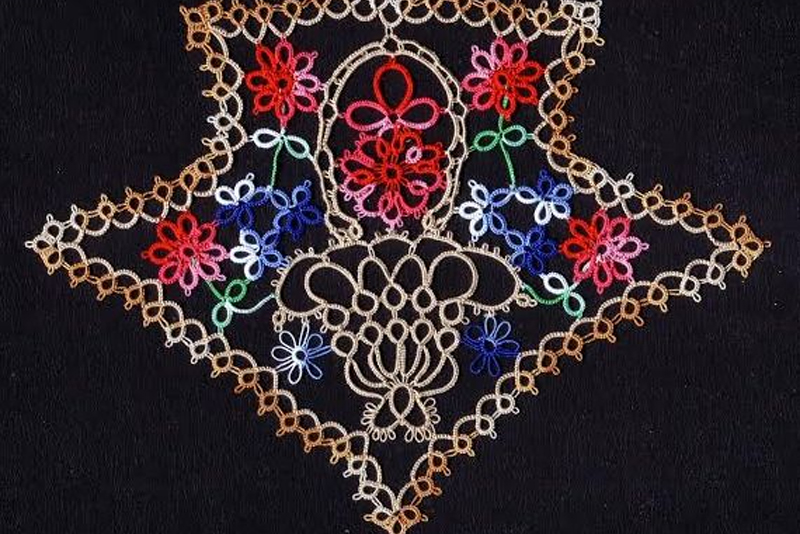 Imported Designs of Tatting Book #77 © 1936
With a clear photo and a numbered diagram, the tatter can recreate all the patterns in this book, "Imported Designs of Tatting Book #77" easily. This booklet was published with photos of the tatting only. No instructions, no patterns.
Pattern #861 pg. 10
Model by Linda Joy Trapp-Schlegel
A. R 14 - 3 - 3 - 3 - 5 clr rw
B. CH 5 - 6 - 5 rw
C. R 4 + (join to ring A) 4 clr rw
D. CH 6 - 6 rw
E. R 4 + (join to ring A) 4 clr rw
F. CH 6 - 6 rw
G. R 4 + (join to ring A) 4 clr rw
H. CH 6 - 6 rw
I. R 4 + (join to ring A) 4 clr DNRW
J. CH 6 - 6 - 6 rw
NB: Many thanks to Jane Eborall for preparing diagrams.
Study the diagrams. You will note that the "repeat" for this pattern consists of two motifs. Each motif is based upon a large A ring. When the second motif is done then there is a bridge to the next set of two motifs.
CH 6 + (join to the first motif) 6 - 6 rw
Begin repeat with ring A
Although there are a lot of twists and turns, the tatting itself is a simple ring and chain repeat. Except for the picots used for joins you may add or delete decorative picots. Consider using a floral color for the rings and a leaf color for the chains. Or go for elegance with lots of beads. In fact, if you create only two motifs and end it with the join to chain F, you could have an earring!
Bugle beads might show to advantage on some of the joins. A bugle bead placed over the picot before joining the second ring A to the first chain H, or on the picot joining the bridging chain to the first chain F would be excellent positions.
Another bead treatment is the placement of the beads on the core thread instead of (or in addition to) on the picots. The large ring A would be a great place to try this method.
Also consider using the up join instead of the traditional join to give this strip of lace an extra touch of elegance. This up join will create the all front/back side look to the work.
You Should Also Read:
Imported Designs of Tatting Bk #77 list


Related Articles
Editor's Picks Articles
Top Ten Articles
Previous Features
Site Map





Content copyright © 2023 by Georgia Seitz. All rights reserved.
This content was written by Georgia Seitz. If you wish to use this content in any manner, you need written permission. Contact Georgia Seitz for details.