Mes Vacances, Album de 170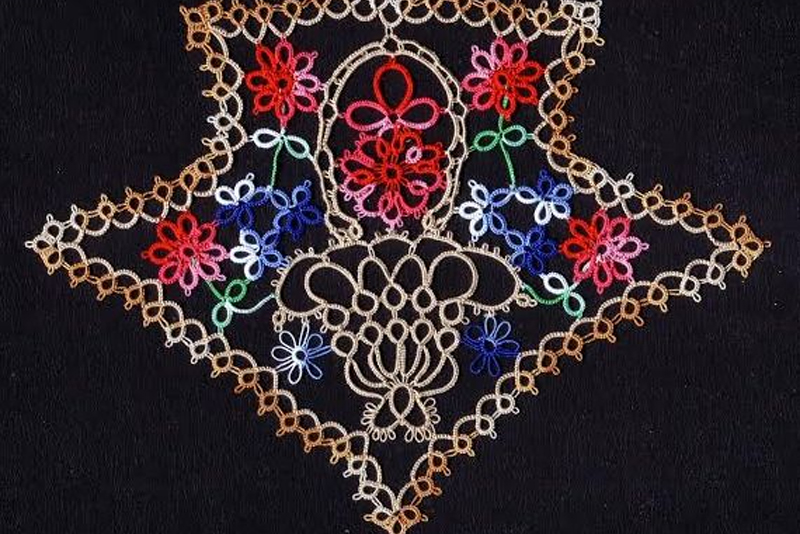 Nouvelle Collection d'Ouvrages de Main
Mes Vacances, Album de 170 modeles pratiques, d'objets usuels et de fantaisie
Paris, Librairie d'Education A. Hatier 33,Quai des Grands-Augustins, 33
In this album of needlework patterns on pg. 53 there is a single tatting pattern illustrated. There were no directions included. The flowers should be tatted first and then the chain holds it all together in one strip.




This vintage pattern is an excellent exercise in joining outward facing rings without twisting the last picot. When the rings face inward and a join is made, it is normally to the left. However, in the last ring of a line of outward facing rings, there are two joins to made. The last ring joins first to the left as normal, the ring is tatted over to the next spot to join and then the join is made to the right, i.e., the join is to the first picot on the first ring. This is in a awkward spot which accounts for the twisted picot in so many joins.



After tatting up to the last join, open the ring extra wide. Next fold the motif backwards so that the last ring is back to back with the first ring. Bring a loop of the ring thread through the picot on the first ring, put shuttle through that loop . Keep the work folded while you remove the slack and finish the join and the ring. After the ring is closed the work may be unfolded, and, if you are lucky, there will be no twist in the picot. However, this is a tricky join and you will need to practice it.



R = ring

CH = chain

clr = close ring

rw = reverse work

dnrw = do not reverse work

- = picot

x = the number of times to repeat a segment

+ = join



5-ring flower




R1 (3 -) x7, 3 clr dnrw

R2 3 + (join to last picot of R1) (3 -) x6, 3 clr dnrw

R3 3 + (join to last picot of R2) (3 -) x6, 3 clr dnrw

R4 3 + (join to last picot of R3) (3 -) x6, 3 clr dnrw

R5 3 + (join to last picot of R3) (3 -) x5, + (join to first picot of R1), 3 clr

Secure ends.








Chain



CH 4 - 4 rw

R 4 + 1 - 1 + 4 rw

CH 4 - 4 + (shuttle lock join to picot of flower) 4 - 4 rw

Repeat for length needed.








https://www.antiquepatternlibrary.org/pub/PDF/B-TT001MesVacances.pdf



Here's the latest article from the Tatting site at BellaOnline.com.



Picot uses

Uses for the picot in tatting for design and construction.



https://www.bellaonline.com/articles/art300771.asp/zzz



Please visit tatting.bellaonline.com for even more great content about Tatting.



To participate in free, fun online discussions, this site has a community forum all about Tatting located here -



https://forums.bellaonline.com/ubbthreads.php?ubb=postlist&Board=39



I hope to hear from you sometime soon, either in the forum or in response to this email message. I thrive on your feedback!

Have fun passing this message along to family and friends, because we all love free knowledge!



Georgia Seitz, Tatting Editor

https://tatting.bellaonline.com


One of hundreds of sites at BellaOnline.com






Related Articles
Editor's Picks Articles
Top Ten Articles
Previous Features
Site Map





Content copyright © 2023 by Georgia Seitz. All rights reserved.
This content was written by Georgia Seitz. If you wish to use this content in any manner, you need written permission. Contact Georgia Seitz for details.