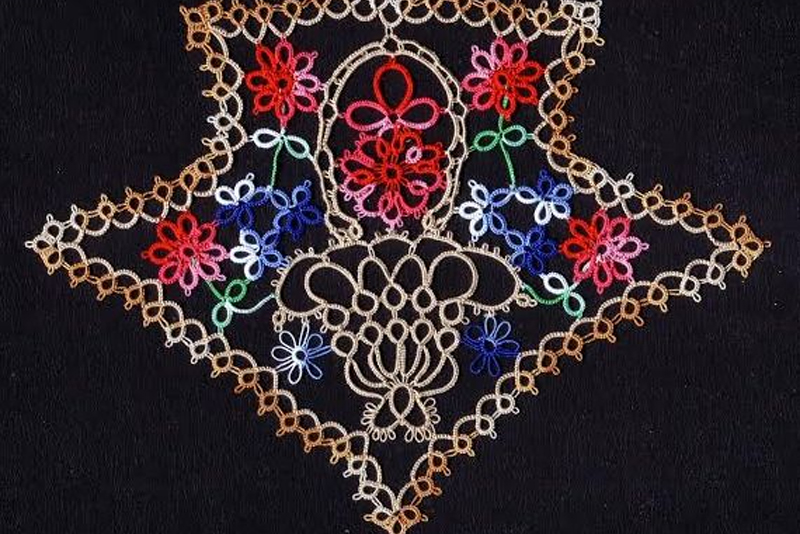 Vintage Collar Rescued by Barbara Bruyer
As I travel to tatting events during the year I often stop at antique stores to "stretch my legs." (LOL) Yes, you are probably as skeptical of that excuse as my husband is. I confess, I stop to look for tatting shuttles, hankies and linens edged with tatting, any tatting at all. Over the years I have been able to "rescue" several nice pieces and repurpose them.
This edging I found wadded up in a waste basket. I thought it would be free since it was being discarded but my interest in it perked up the seller's bargaining instincts. Still it was worth it. It had 5 breaks in the tatting but they were repairable. I then prepared a cloth center and sewed the tatting on. I use it to cover my display tables at events.
It is worth noting that this edging survived, I believe, because it was tatted separately and not joined directly to a cloth. Thus it was detached when the cloth wore out and available for a second life with me. I think this a particular point to consider when making edgings for bridal hankies. Sew it on later and it can be used again and again. But, when sewing on a edging, leave your shuttles attached as in the sewing process the length "shrinks" and you may need to add a ring or repeat to make it fit. For edgings with definite corners, sew on the edging side by side to make sure the corner design is positioned correctly.
Barbara Bruyer luckily found a tatted collar which she is sharing with us. The tatting is the most basic technique but being a curved collar it offers several points to educate the tatter on building a wide curved edging.
A simple collar of tatted lace with no header.
Close up of the collar which shows the growing width nicely.
The reverse side of the collar is showing. As you count the ds you may disagree with the count on the diagram. Since it is the back side, an additional ds will be showing on the front side where the picots appear. To give such a piece the all front side up look, merely reverse the half stitch order when making the chains. And when joining, use the down join not the up join.
Diagram provided by Jane Eborall.
The pattern for the collar from the inner edge outward. Only the repeat is given, as you recall,the first ring has a joining picot showing but subsequent rings join at that spot.
Row 1 R 4 + 4 - 4 - 4 clr rw CH 4 - 4 rw
Row 2 R 4 + 4 - 4 - 4 clr rw CH 4 + (join to middle picot of row 1 rings) 4 rw
Row 3 RA 5 + 5 + (join to middle picot of ring on row 2) 5 - 5 clr rw CH 5
RB 5 + 5 - 5 - 5 clr rw CH 5 rw
RC 5 + (join to RA )5 + (join to picot on ring of row 2) 5 - 5 clr rw CH 5
RD 5 + (join to RB )5 - 5 - 5 clr rw CH 5
Row 4 R 6 + 6 - 6 - 6 clr rw CH 5 + (join to middle picot of ring of row 3) 5 rw
Row 5 R 9 + 2 ( - 1 ) x6, - 2 - 9 clr rw CH 6 + (join to middle picot of ring of row ) 6 rw
This pattern may be worked from inside to outer row or from left to right.
You Should Also Read:
Vintage Patterns


Related Articles
Editor's Picks Articles
Top Ten Articles
Previous Features
Site Map





Content copyright © 2023 by Georgia Seitz. All rights reserved.
This content was written by Georgia Seitz. If you wish to use this content in any manner, you need written permission. Contact Georgia Seitz for details.