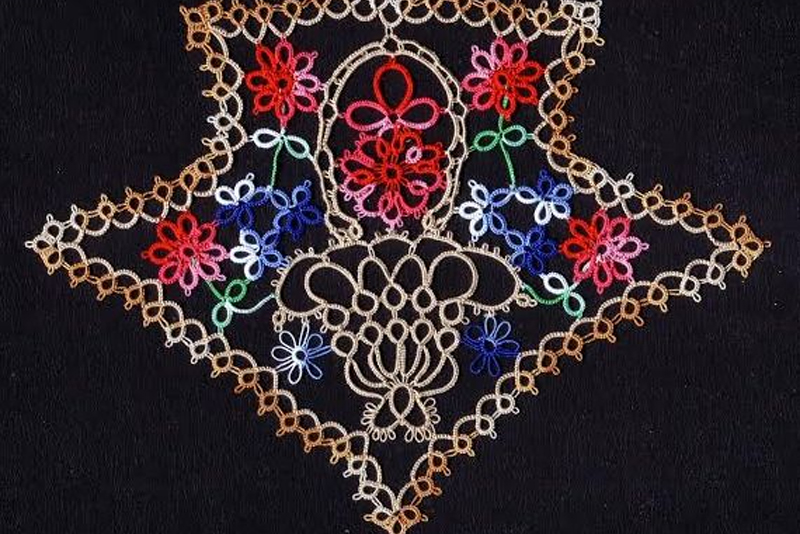 Swedish Tatting Books
Recently, Polly W. wrote me with a request for information on tatting pattern books in Swedish. I was surprised to find that I had none. So I began a search online for info. I found a tatter in Sweden who had a store (https://anniesgranny.com/category/tatting/) online, Anita. And she provided these details about the few Swedish tatting books known to her.
Äkta spetsar (Real lace)
This is a book on lace making methods with tatting being one of the techniques. The author of the book is Elsa Brandstake and it was published in 1925. It contained 205 pages, but the number of pages with tatting is not known. Anita believes that a copy can be found in the Royal Library in Stockholm, Sweden. She adds that she will try to look for it up there.
Lär er slå frivoliteter (Learn to tat) Coats & Clark, J.P. Coats #330 This is a reprint from the English. The 22 page booklet was printed in 1952 by Paisley.
Frivoliteter (Tatting)is a most familiar pattern book (first edition 104 pgs)to tatters around the world. The authors are Gun Blomqvist and Elwy Persson. These two Swedish ladies have published the most about tatting in Swedish. The second edition was printed in 1973, some patterns removed and others added, 107 pages in total.
The third edition was printed in 1982, 1984 and possibly 1995.
Frivolitetsmönster (Tatting patterns.)These same ladies, Gun Blomqvist and Elwy Persson, also published a 63 pages booklet in 1982.
Frivoliteter (Tatting) was a textbook on tatting written by Saga Molin and Gunn Severien. Printed in 1986, this booklet had 80 pages, but was only printed on every other page so it is really only 40 pages printed. It contains a tutorial on tatting, how to design patterns, design ideas and ideas how to use tatted lace.
Frivolitetsmönster (Tatting patterns.) Author Sara Lawergren's 32 pages booklet was printed in 1955, 1957 and 1960. It contains a tutorial with pictures, 43 designs, borders, snow flakes and doilies.
Two more titles are known but no covers are available as yet.
Lär er knyta frivoliteter (Learn to tie tatting.) by authors Ulla Nyström and Nancy Eriksson. It has 26 pages and was printed in 1986.
Favorit-lärobok för moderna skyttelarbeten (Favorite textbook on modern shuttle works) is a textbook on tatting by Hedwig Stojanoff with 32 pages and was printed in 1923.
There may be a Swedish translated of Emmy Liebert's book on tatting, also.


Related Articles
Editor's Picks Articles
Top Ten Articles
Previous Features
Site Map





Content copyright © 2019 by Georgia Seitz, ed. & Anita Schaeder. All rights reserved.
This content was written by Georgia Seitz, ed. & Anita Schaeder. If you wish to use this content in any manner, you need written permission. Contact Georgia Seitz for details.