Classic Wheel with half stitches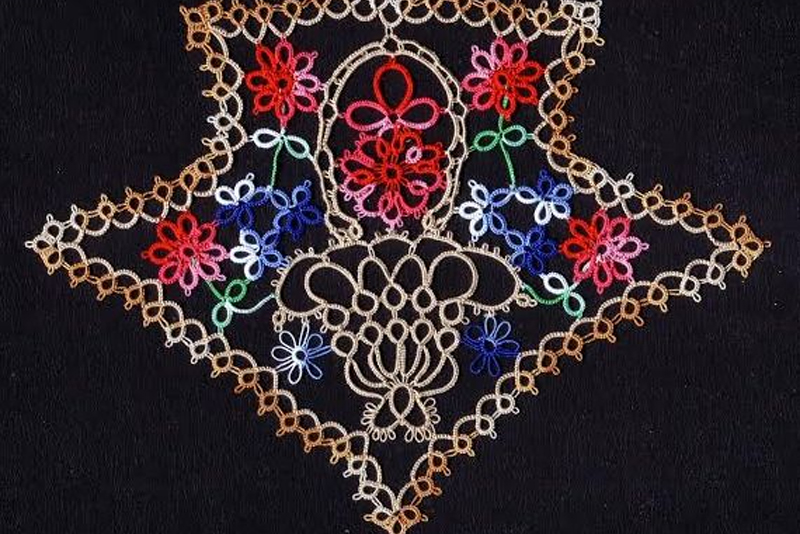 A Classic Wheel featuring the use of half stitches combined with double stitches.
The Jackson Citizen Patriot published this set of 5 basic tatting patterns by Winifred Worth on Sept. 28, 1917. I have seen these patterns before and tatted some of them even. But only recently did I actually READ the directions for the classic wheel shown.
The image here is rather small so please right click and save to your computer where you can open it up for easier viewing and enlarge the wheel.
The center ring is described as having 30 double stitches separated by 12 picots. I wrongly assumed that was a typo and made it 15 picots making it 2 ds between each picot. A random search of interesting historical tatting tidbits brought me back to this wheel but it was not the supposed typo I spotted this time. No, it was the ½ fraction symbol my eyes spotted. Reading it very closely, I discovered my error.
The picots on the center ring are actually separated by 2 ½ stitches. That means 2 full double stitches followed by the half stitch. It did not specify first half nor second half just half stitch. This does indeed create a ring of 30 doubles stitches separated by 12 picots NOT 15. Of course, the directions read then to cut the thread and hide the ends but there is no reason to do so if we use the mock picot to climb out into a split ring for the next round.
The modernized directions would read:
Center Ring:
R (2.5 ds - ) x 11, 2.5 ds clr dnrw Last picot is a mock picot to climb out.
Row 2: Climb out with split ring.
SR 1.5 ds - 2.5 ds / 2.5 ds - 1.5 ds close ring, rw
Leave short space and begin the larger outer ring.
[In the original directions, a number is left off, the ring is tatted with 4 ds between each picot or join. It is corrected here.]
R 4 ds - 4 ds - 4 ds - 4 ds clr rw.
Leave short space and begin the next inner ring.
*R 1.5 ds - 2.5 ds + (join to next p on center ring) 2.5 ds - 1.5 ds close ring, rw
Leave short space and begin the larger outer ring.
R 4 ds + (join to adjacent large ring)4 ds - 4 ds - 4 yds clr rw.
Repeat around from the * and secure ends.
What difference does this shift of one half stitch make? Please let us know your findings?
I also suggest rereading the patterns of Mlle Riego and the late Jan Stawasz.
You Should Also Read:
Building a Tatting Library - Standards
Tatted Treasures by Jan Stawasz


Related Articles
Editor's Picks Articles
Top Ten Articles
Previous Features
Site Map





Content copyright © 2019 by Georgia Seitz. All rights reserved.
This content was written by Georgia Seitz. If you wish to use this content in any manner, you need written permission. Contact Georgia Seitz for details.