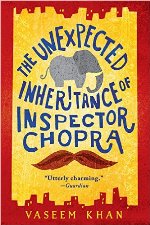 | | | |
| --- | --- | --- |
| | Title: | The Unexpected Inheritance of Inspector Chopra |
| | Author: | Vaseem Khan |
| | Published: | 2015, Redhook |
| | No. of Pages: | 320 |
| | Cover Price: | $15.99 Paperback, $9.99 Kindle |
---
Inspector Chopra has just retired and wonders what he will do with himself and his new lifestyle. On his last day on the job, he learns of a young boy who has drowned, and the mother insists that because she is poor, nothing is going to be done about it even though there are suspicious circumstances. Inspector Chopra also inherits a baby elephant from a relative, and he has no place to keep him, and no idea how to take care of him.
Inspector Chopra decides to investigate the suspicious drowning on his own, and encounters resistance from most in the police department. In fact he is warned that he should stay away. It's interesting how there is corruption, and it is an accepted fact of life for the Indian culture. During the course of Inspector Chopra's investigation he finds his life is in danger, and he also finds that his elephant, Baby Ganesh, is a great help.
Readers who enjoy suspense, but not violence, and prefer light-hearted and upbeat stories will enjoy this book. The characters are not only interesting, but they introduce a culture that is very different from what most of us are used to. The East Indian culture is very foreign, but fascinating, and adds a fun side to the story.
The story, while told in very simple terms, is reminiscent of those told by Alexander McCall Smith in his Number One Ladies Detective series where it seems like one is reading a children's book, but ends up being anything but juvenile; the issues are thought provoking and will make readers ponder them long after the novel has been finished. This novel is quite suspenseful from the start, and the suspense lingers throughout.
The Unexpected Inheritance of Inspector Chopra
is highly recommended. It is one of those "feel-good" thrillers that will bring enjoyment to readers of all ages.
Special thanks to NetGalley for supplying a review copy of this book.
This book may be purchased at Amazon:
The Unexpected Inheritance of Inspector Chopra (A Baby Ganesh Agency Investigation)
The Unexpected Inheritance of Inspector Chopra (A Baby Ganesh Agency Investigation) by Khan, Vaseem(September 15, 2015) Paperback
The Unexpected Inheritance of Inspector Chopra (A Baby Ganesh Agency Investigation)