Oval Heart Doily - Georgia Seitz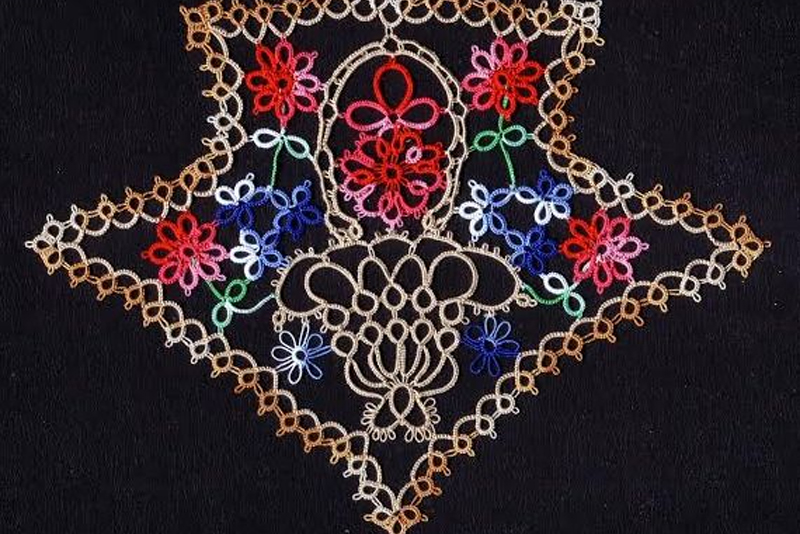 This is the logo from my website, The Online Tatting Class, www.georgiaseitz.com. I designed it for Book 4 of the Ribbonwinners series, "Tatting on the Edge...and Beyond." I used it in several variations such as the Sweetheart Snowflake and this oval shaped heart doily. Castella Arthur has tatted it in two colors and the photos are posted online.
She was asked for a copy of the pattern by a person who was unable to purchase the book directly. Cas came to me instead and asked permission. In this day and economic situation, I can sympathize this other tatter. I appreciated being asked. I have decided to share the pattern. It is but one of many patterns in this 56 page book of which I am proud.
And remember we have lots and lots of free patterns here at BellaOnline.com, the Online Tatting Class, The Antique Pattern Library and many more sources.
Oval Heart Motif Doily. The fourteen heart motifs on the outer edge are the basic heart pattern:
https://www.georgiaseitz.com/mysrheartpattern.jpg
The six inner hearts which are joined head to head have an extra ring on each side and a large ring at the point.
Side rings : R 10 + 10 close ring
Large ring at point: 10 + 2 - 2 - 2 - 2 + 10 close ring
There is a four ring motif on either side of the central heart pair.
Four rings: R 2 - 6 + 6 - 2 cl r. R 2 + 6 + 6 - 2 cl r. Repeat twice. Hide ends.
There is a cloverleaf motif at either of the oval ends. These two motifs should be tatted last. This will allow for adjustment in the length of the chains or the size of the rings to fill the open space left on either side of the heart motif in the center of the oval end.
Attach thread to point of two joined hearts. Chain length necessary to reach halfway to point of next ring. Tat two rings attaching in each direction. Continue to chain and attach to center point of center heart. Tat cloverleaf similar to cloverleaf of basic pattern adding DS if necessary to reach points of attachment.
Repeat chain and double ring ending at opposite side. Attach ends to point of two joined hearts and hide. Please note that the chains of the four hearts at the curve of both oval ends do not join together. This allows the curve to be shaped.
Oval Heart Doily Model by Castella Arthur.


Related Articles
Editor's Picks Articles
Top Ten Articles
Previous Features
Site Map





Content copyright © 2019 by Georgia Seitz. All rights reserved.
This content was written by Georgia Seitz. If you wish to use this content in any manner, you need written permission. Contact Georgia Seitz for details.