NHY Heart Shaped Edging no. 5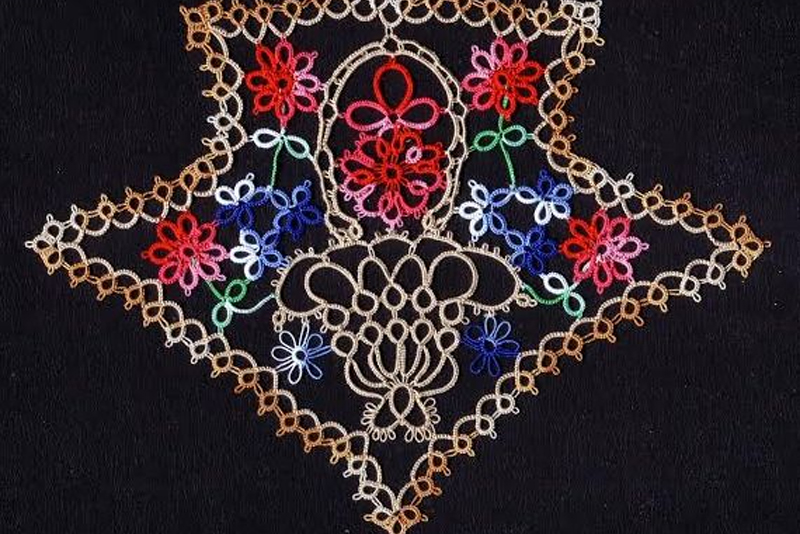 Forty Original Designs in Tatting By Nellie Hall Youngburg Novel and Unique Designs with Complete Instructions for Every Pattern Designed and Executed by Nellie Hall Youngburg, Brookings, SD© 1921. As a summer tatting project tatters in the 2014 Online Tatting Class began rewriting and modernizing the patterns in this vintage tatting book. Diagrams and new models have been prepared to help the tatter follow the patterns more easily. Both the original public domain booklet and the new version are being posted online to share with all tatters everywhere.
Sample tatted by Shanan Strode
Heart Shaped Edging no. 5 pg 1
Using one shuttle/needle and ball thread or two shuttles in either 1 or two colors, begin with ring.
R 6 - 6 clr rw
CH 4 - 2 - 2 - 10 dnrw
Join to picot on ring 1
FR 6 - 6 clr dnrw
CH 10 - 2 - 2 - 4 rw
*CH 6 - 2 - 2 - 2 - 2 - 6 rw
R 3 + (join to penultimate picot on adjacent chain) 3 - 3 - 3 clr rw
CH 6 - 2 - 2 - 2 - 2 - 6 rw
R 6 - 6 clr rw
CH 4 - 2 + (join to third p of small ring) 2 - 10 dnrw
Join to picot on ring below
FR 6 - 6 clr dnrw
CH 10 - 2 - 2 - 4 rw.
Repeat from * for length desired.
Diagram by Jane Eborall
Note the circular motif formed by five repeats with the floating rings joined in the center.
Variation of the edging as a round motif tatted by Shanan Strode.
These rings may be joined into one large picot formed on the first floating ring to which the other rings will join as they are tatted.
Or, use the swirl join in which all the rings are tatted first until the last ring which joins into the other 4 rings all at one time in a swirling motion. Insert a crochet hook into a each picot one each ring to which a join is desired. Keep the rings in order. Pull the loop thread through all those picots to make a swirl join.
You Should Also Read:
40 Designs Nellie Hall Youngburg


Related Articles
Editor's Picks Articles
Top Ten Articles
Previous Features
Site Map





Content copyright © 2023 by Georgia Seitz. All rights reserved.
This content was written by Georgia Seitz. If you wish to use this content in any manner, you need written permission. Contact Georgia Seitz for details.