Nellie Hall Youngburg design #18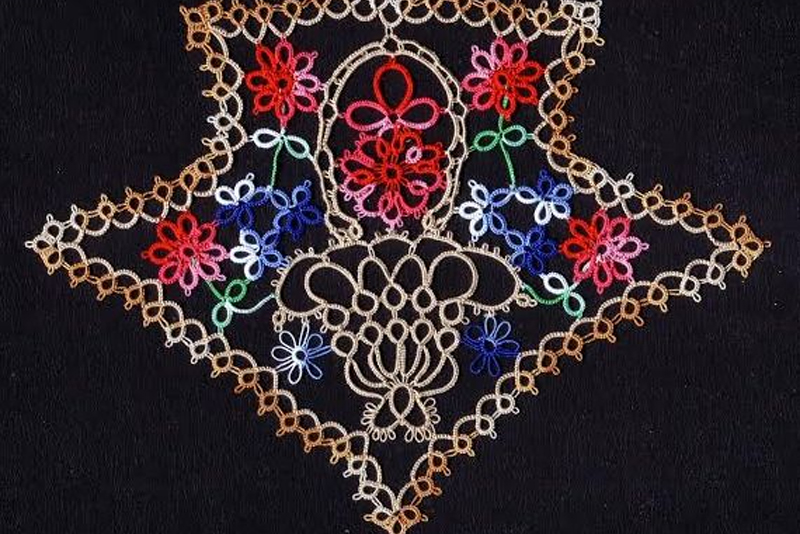 Nellie Hall Youngburg #18 pg
NH Youngburg Motif #18 pg.6
Tatted by Patricia Vera-Camacho
The original pattern suggested No. 50 pink crochet cotton in two colors: pink for center rings and white for the second round work, however,in this sample No. 80 was used for this bag table hook project. 3.05 cm Ø
At the beginning Mrs. Youngburg made the center ring, tied and cut the thread. But in an one color project it is not necessary to cut the thread, a split ring and a mock picot should be used to climb out into the next round.
R = Ring
CH = Chain
- or P = Picot
DS = Double Stitch
SS = Switch Shuttle
Begin with pink thread.
Ring of 6 picots separated by 2 ds, close, tie and cut the thread. See the method of magic thread loops to hide ends.
R 6 + (join to a picot from the first ring) 6 close. --Magic thread for the end--
Join on a white thread and * make a CH of 6 ds,
R 6 - 6 close rw --(for color variation SS)--
CH 6 rw
R 6 + (join to next p of the center ring) 6 close rw.
CH 3 - 1 - 1 - 3 rw
R 6 - 6 ds close rw
CH 3 - 1 - 1 - 3 rw
R 6 + (join to p of previous ring) 6 close, DNRW
CH 3 - 1 - 1 - 3 rw
Don't forget the magic thread at the last Ch--
R (pink) 6 + (join to next p of the center ring) 6 close. RW
Repeat from * until there are 3 points and 3 scallops, tie and cut threads.
Here's the latest article from the Tatting site at BellaOnline.com.
NHY Heart Shaped Edging no. 5 Heart Shaped Edging no. 5 Sample tatted by Shanan Strode from Forty Original Designs in Tatting By Nellie Hall Youngburg ©1921
https://www.bellaonline.com/articles/art302521.asp/zzz
Please visit tatting.bellaonline.com for even more great content about Tatting. To participate in free, fun online discussions, this site has a community forum all about Tatting located here -
https://forums.bellaonline.com/ubbthreads.php?ubb=postlist&Board=39
I hope to hear from you sometime soon, either in the forum or in response to this email message. I thrive on your feedback! Have fun passing this message along to family and friends, because we all love free knowledge!
Georgia Seitz, Tatting Editor https://tatting.bellaonline.com One of hundreds of sites at BellaOnline.com
You Should Also Read:
Free Tatting Books Online
Vintage Patterns
40 Designs Nellie Hall Youngburg


Related Articles
Editor's Picks Articles
Top Ten Articles
Previous Features
Site Map





Content copyright © 2019 by Georgia Seitz. All rights reserved.
This content was written by Georgia Seitz. If you wish to use this content in any manner, you need written permission. Contact Georgia Seitz for details.