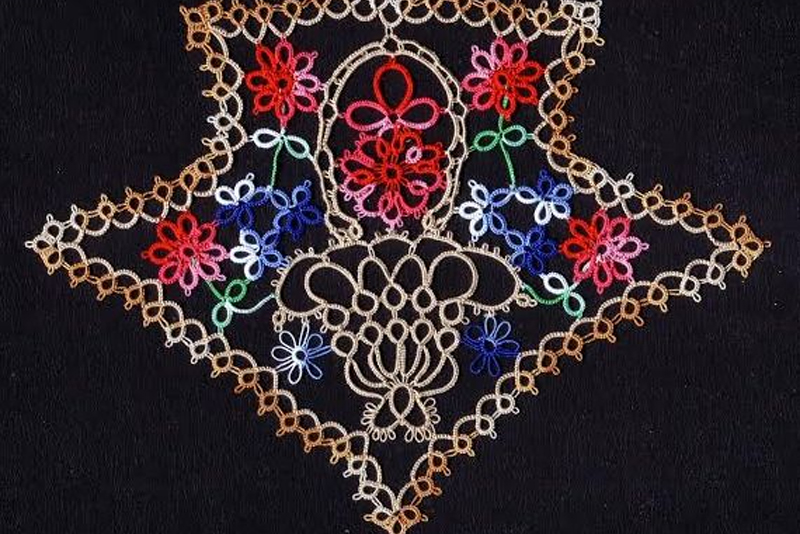 Forty Original Designs in Tatting By Nellie Hall Youngburg
Novel and Unique Designs with Complete Instructions for Every Pattern Designed and Executed by Nellie Hall Youngburg, Brookings, SD© 1921. As a summer tatting project tatters in the 2014 Online Tatting Class began rewriting and modernizing the patterns in this vintage tatting book. Diagrams and new models have been prepared to help the tatter follow the patterns more easily. Both the original public domain booklet and the new version are being posted online to share with all tatters everywhere.

Coin Purse #25 pg 8
Sample tatted by Ann Taylor

Using one shuttle/needle and ball thread or two shuttles, begin the center ring and chain motif. All six inner rings join to the same picot.
R 10 -- (long picot) 10 clr rw
CH 4 - 2 - 2 - 2 - 2 - 4 rw
* R 10 + (join to large picot) 10 clr rw
CH 4 - 2 - 2 - 2 - 2 - 4 rw
Repeat from 8 four more times.
Option A: After last chain fasten at base of first ring and finish off ends.
Option B: Tat last chain up to the last picot. Then tat split chain joining to the base of the first ring and wrapping ds over the bare chain thread back to the spot where the picot would have been. Lastly, tat mock picot and split ring to climb into round 2.
If using Opt. B Climb out with mock picot and tat split ring.
A. SR 2 - 2 / 2 - 2 clr rw dnrw
B. CH 4 - 2 - 2 - 2 rw
C. R 4 + (join to last picot on split ring) 4 clr rw
D. CH 2 - 2 - 2 - 4 rw
E. R 2 + (another join to split ring) 2 + (join to 4th picot on chain above) 2 - 2 clr rw
Leave no space. The next repeat begins with a regular ring A.
Make a second side and join by the side picots around leaving just 3 of the scallops unjoined.
A ruffle or flap is made at the top joining 5 of this scallops to the 3 scallops on each side which were not joined.
To finish, cover cabone ring with wrapped stitches and attach chains for drawstrings cords. The original had crocheted drawstrings.
A suggestion to consider is to use satin cord instead of crocheted or tatted chains as they fray quickly. Run the cord to the picots on the outer scallops through a picot and back to the cabone ring in a "W" pattern. Then cover the cord through the cabone ring with wrapped ds also.
Separate motif on flap:
R 4 + (join to the edge motif at top) 4 - 4 clr rw
CH 4 - 2 - 2 - 4 rw
R 4 + (join to last picot on ring) 4 clr rw
CH 4 + (join to edge at first picot on next chain) 4, finish ends. Repeat joining motifs.
You Should Also Read:
Vintage Patterns
40 Designs Nellie Hall Youngburg


Related Articles
Editor's Picks Articles
Top Ten Articles
Previous Features
Site Map





Content copyright © 2019 by Georgia Seitz. All rights reserved.
This content was written by Georgia Seitz. If you wish to use this content in any manner, you need written permission. Contact Georgia Seitz for details.