Swedish tatting books update Anita Schaeder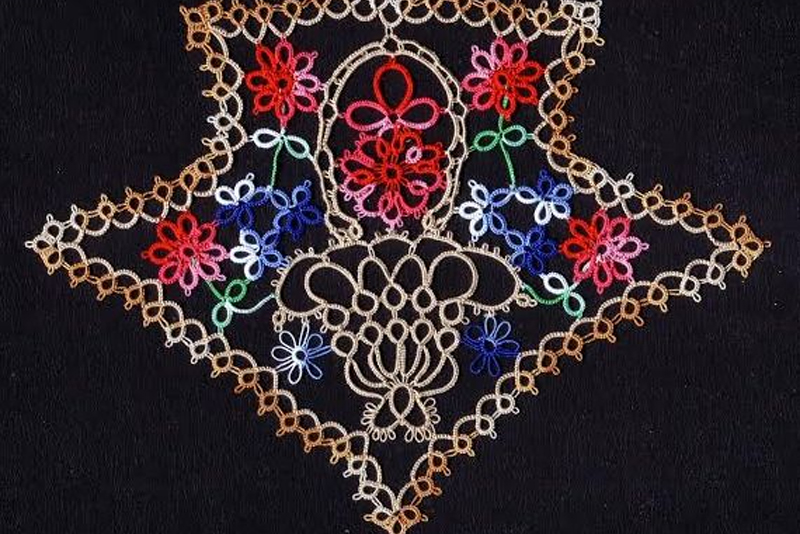 Update May 20, 2016, Anita reports3 more books found:
Damernas Bok (Ladies Book) from 1879
Beyers Enkla Frivolitetsspetsar (Simple Tatted Lace Edgings) from 1925
And one that I have been looking for a long time: Beyers Schiffchen-Arbeiten Heft II in Swedish translation from approx 1925.
ENGLISH TRANSLATION of message from Anita Schaeder
Some time ago I got an email from Georgia Seitz asking me if I knew of any tatting books published in Swedish. Of course I'm familiar with Gun Blomqvist and Elwy Perssons book Frivoliteter (Tatting). This book has been published in three editions, 1967, 1973/1979 (ISBN 91-36-00231-3) and 1995 (ISBN 91-27-05511-6).
The first editions were published by LTs publishing company and the last/latest by Natur & Kultur. The first edition contained 104 pages and the later 107 pages.
These books are probably the most important ones being published about tatting in Sweden, and they are well known internationally.
The authors writes in the preface that they wanted to publish the book because there was no modern Swedish edition on the subject at that time and they thought there was a great need for a tatting book with tutorial and patterns. One can only agree!
The book is still relevant and in demand almost 50 years after the preface was written.The book contains a variety of patterns on edges, bags, collars, stars, doilies and bridal crowns.
In the later editions some patterns has been removed and others has been added.
The books have been published in English as Tatting Patterns and Designs 1974 and 1988, on Norwegian Nupereller 1981 and in Dutch Frivolité 1982. Perhaps also in more languages that I don't know about?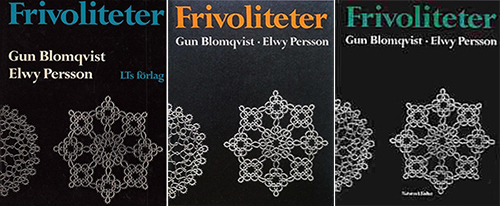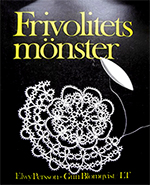 Gun Blomqvist and Elwy Persson have also in 1982 published a 63 pages long paperback with additional patterns, Frivolitetsmönster (Tatting patterns).

The book contains tutorial, washing instructions and patterns of doilies, edges and a couple of bridal crowns.



ISBN: 91-36-01957-7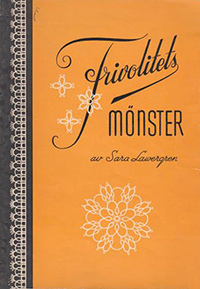 Of course I also know of Sara Lawergren's booklet Frivolitetsmönster (Tatting patterns) that was printed in 1955, 1957 and 1960.
>It contains 63 pages and apart from tutorial also 43 different patterns of edges, snowflakes, stars and doilies.
Sara Lawergren has published several books on embroidery and crochet.



Also she has made a great contribution to the tatting community.

I will write more about her books in a later blog post.
>One can easily understand the need Gun Blomqvist and Elwy Persson felt when they published their first book in 1967, because there is not much more published in Swedish.



This is what I found when I searched the libraries and the Internet: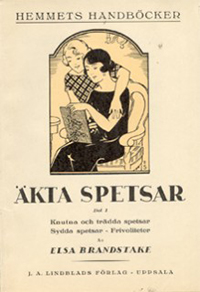 >Äkta Spetsar (Real Lace) Part 1, by Elsa Brandstake.

The paperback book has a chapter on tatting, and was published by J. A. Lindblads Publishing Company in Uppsala 1925.

The book has 208 pages of which 43 is on tatting.

Elsa Brandstake was born 1876 in Stockholm and died in 1931.
Favorit-lärobok för moderna skyttelarbeten (Favorite textbook on modern shuttle works) by Hedwig Stojanoff.

The booklet is 32 pages long, published in the first edition 1923 by Favorit-Expeditionen, Stockholm and was printed by Lehmanns in Dresden.

The book is a translation from the German original from 1922 "Favorit-Lehrbuch für moderne Schiffchenarbeiten" and contains 52 different patterns on doilies, stars, edgings and collars.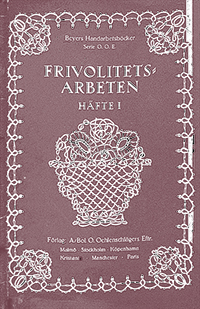 Frivolitetsarbeten häfte 1 is a 52 pages long booklet that is a translation of a German original printed in 1923.

The German original, Schiffchen-arbeiten I (Frivolitäten) Volume 36, was published by Otto Beyer Publishing Company in Leipzig and edited by Emmy Liebert.

It was published in two editions, 1915 (50 pages) and 1921 (63 pages). The second editions had additional patterns included and the cover changed.
Schiffchen-arbeiten II, volume 40 with 38 pages printer 1920 and edited 1922 is supposed to exist in Swedish translation but I haven't seen it anywhere.


Related Articles
Editor's Picks Articles
Top Ten Articles
Previous Features
Site Map





Content copyright © 2019 by Georgia Seitz, ed. / Anita Schaeder. All rights reserved.
This content was written by Georgia Seitz, ed. / Anita Schaeder. If you wish to use this content in any manner, you need written permission. Contact Georgia Seitz for details.