Equitant Oncidiums or Tolumnia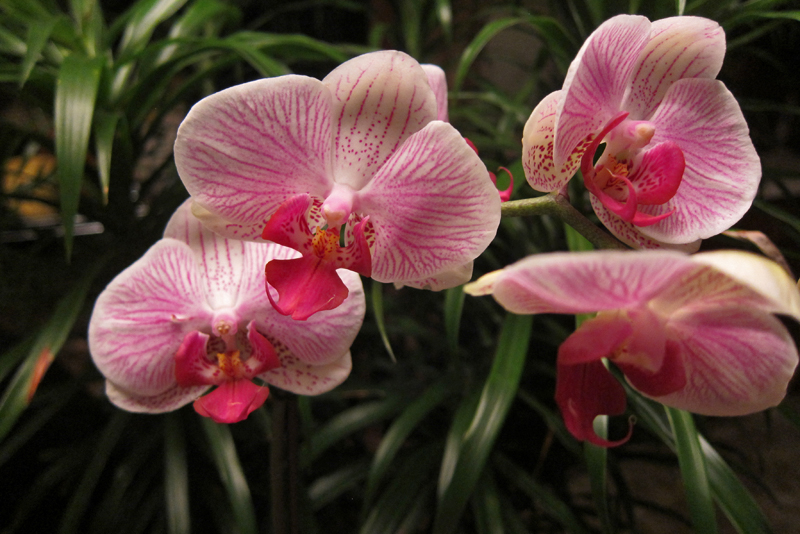 Tolumnia miniature orchids are rewarding and easy to grow for all levels of grower. They are true miniatures—only about 3 inches high with a wide variety of flower shades available from yellow to purple and everything in between. Here's a picture from one of our favorite vendors,
Tolumnia from Oakhill Gardens
In most reference books these little orchids will be referred to as Equitant Oncidiums, but they have recently been reclassified to their own family, Tolumnia. They are native to the Caribbean and therefore are classified as warm growers needing high humidity. In nature they grow on small branches or twigs and therefore need excellent drainage. The main cause of poor performance is over watering of the plants—mist, don't water!!
Most growers recommend mounting, but they can be maintained in 2" pots with very fast draining media. They can also be grown on tree fern fiber or plaques or cork rafts. Equitants are adaptable as far as light requirements and will grow well with Phalaenopsis or Cattleyas. After they flower, don't cut back the inflorescence, they will put out side spikes and can bloom for several months this way.
You will need to match your watering schedule to the type of media in which you are growing your plants. The faster draining the media (such as tree fern which holds no water) the more water they will need—2 to 3 times per week. Potted plants which will hold water more should only be watered once a week. Remember, it is very easy to over water these plants and almost impossible to underwater unless they are mounted. In conjunction with careful watering schedules, good air circulation is very important for these plants. Drying out occurs better with good circulation.
The inflorescences are 8-12 inches tall above the small fan-shaped leaves. Flowers are ½" – 1" each in diameter. Mixing and matching different colors of these plants produces a display that is hard to match. These small flowers come in so many colors and different patterns that it almost seems that no two are alike. There is a great deal of interest currently in hybridizing these tiny plants so new combinations are coming out all the time.
UPDATE: I was working with a local grower to find a couple more Tolumnias and he indicated that he had lost a lot of them to scale. His died within about a week of getting it—so beware Tolumnia growers. Keep an eye out and destroy any scale you find on them.
You Should Also Read:
Scale A Grower's Nightmare


Editor's Picks Articles
Top Ten Articles
Previous Features
Site Map





Content copyright © 2021 by Susan Taylor. All rights reserved.
This content was written by Susan Taylor. If you wish to use this content in any manner, you need written permission. Contact Anu Dharmani for details.