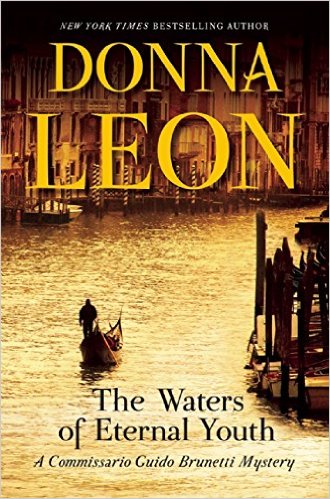 | | | |
| --- | --- | --- |
| | Title: | The Waters of Eternal Youth |
| | Author: | Donna Leon |
| | Published: | 2016, Atlantic Monthly Press |
| | No. of Pages: | 256 |
| | Cover Price: | $26.00 Hardcover, $14.74 Kindle |
---
The Waters of Eternal Youth
is the 25th installment in the Commisario Guido Brunetti series, where Donna Leonís excellent mysteries capture the charm and romance of Venice. Guido and Paola are invited to a dinner with the Contessa Demetriana Lando-Continui, Paolaís motherís best friend, and she asks Guido to investigate what may or may not have been an accident involving her granddaughter, Manuela, who suffered brain damage from a near drowning. Since the accident occurred fifteen years prior, Guido must call in some favors and pull strings to investigate, and his strained relationship with his boss seems to suffer even more.
Leon is an excellent storyteller, and her writing somehow makes readers feel they are actually in Venice. Anyone who has visited this wonderful city will agree that her writing is true-to-form, and although the characters are fictitious, the scenes are not; the story and events come alive and are very believable.
One of the things that has kept Leonís books award-winning bestsellers is that her characters are regular people; Guido is a happy family man and isnít some type of superhero that does * things to solve mysteries. Another aspect of her novels is the fact that food is often mentioned; in fact, there is even a excellent cookbook with foods from the books.
Mystery lovers, especially those who like a unique setting, will enjoy all of Leonís books.
The Waters of Eternal Youth
is an excellent one, and will inspire readers to read all of the previous novels. The books are great for all ages, since they donít contain graphic violence, sex, or language; this mystery has a surprise ending and is highly recommended.
Special thanks to NetGalley for supplying an advance review copy of this novel.
This book may be purchased at Amazon:
The Waters of Eternal Youth (Commissario Guido Brunetti Mystery), Hardcover
The Waters of Eternal Youth (Commissario Guido Brunetti Mystery), Kindle