Fried Tilapia Sandwich Recipe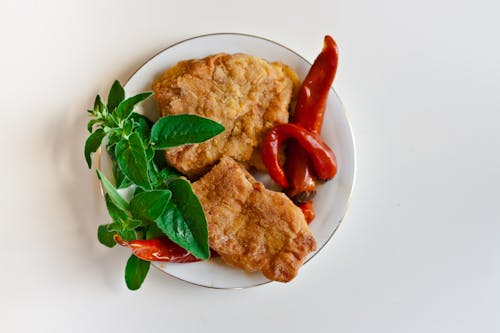 I used to love fish sandwiches from fast food shops. Recently, I've found them to be unsatisfactory. The fish is tasteless and lacks density. The bun is cheap and squishy. They either have too much tartar sauce or they are dry and tasteless. With a bag of tilapia in the freezer, I had a great reason to make fish sandwiches. They turned out well. Try my recipe and see for yourself.

Fried Tilapia Sandwich Recipe(for 2 sandwiches)

Ingredients:

4 tablespoons of tempura mix
4 tablespoons of New Orleans Fish Fry
2 tablespoons all-purpose flour
2 tablespoons yellow cornmeal
½ -1 teaspoon of Old Bay Seasoning
2 large or 4 small thawed tilapia fillets
Oil to cover a heavy skillet ¼ - ½ inch deep
Herb and Pickle Mayo (directions below)
Soft rolls

Method:

Feel free to choose your favorite coating mix for the fish. I make mine with what I have available. This time I mixed tempura mix, New Orleans Fish Fry, flour, yellow cornmeal, and Old Bay Seasoning together in a large shallow bowl. It made more than enough seasoned coating for the fish. Rinse the fish, shake the excess water off, and then dredge it in the coating mix.

Pour oil into your heavy skillet ¼ to ½ inch deep, depending on the thickness of your tilapia and the size of your skillet. Heat the skillet on high until a small piece of tilapia that you place in the skillet sizzles. Carefully add the coated tilapia. Don't over crowd the fillets; they need at least ½ inch between them. Lower the heat to medium. Turn the tilapia when the side that is in the oil is golden brown. Remember to use your spatula to loosen the tilapia when you turn it or take it out of the oil. You don't want to leave half of the coating in the pan! Cook them until they are light golden brown on each side.

Serve the fried tilapia on soft rolls with Herb and Pickle Mayo. You may add spinach or butter lettuce leaves, if desired.


Herb and Pickle Mayo Directions

In a small non-reactive covered bowl, coarsely grate ¼ cup of Claussen's Mini Kosher Dill Pickles. I used 3 pickles. Add 1 teaspoon of sugar to the grated pickles and stir until all of the pickles have sugar on them. Cover and refrigerate for an hour to allow the pickles to absorb the sugar. Add fresh chives and parsley to taste. I added 2 teaspoons of finely chopped fresh chives and a tablespoon of finely chopped fresh parsley. I also threw in a large pinch, about half a teaspoon, of dried dill. After adding ¼ cup of mayonnaise, I stirred in 1 teaspoon of dried onion flakes. I like the dried onion for this recipe because it helps soak up some of the liquid from the pickles and has a uniform size. Cover the bowl and let it stand for at least an hour for the flavors to blend.

Slather the completed mayo onto soft rolls and add the tilapia. Enjoy your fish sandwiches with chips, salad, and fruit. Have fun with your sandwich meal!


Related links: The Related Links below this article may be of interest to you.

When I mention stores or products by brand name, these are the ones that I use. I have not received free products from the manufacturers, nor have I been paid to mention the products or stores by name.

NEWSLETTER: I invite you to subscribe to our free weekly newsletter. This gives you all of the updates for the Sandwiches site. Sometimes, this newsletter has information and variations on sandwiches that are not in the articles. Fill in the blank below the article with your email address - which is never passed on beyond this site. We never sell or trade your personal information.

You Should Also Read:
Broccoli Salad Recipe
Chopped Salad Recipe
Potato Salad with Pickles and Pimentos


Related Articles
Editor's Picks Articles
Top Ten Articles
Previous Features
Site Map





Content copyright © 2022 by Connie Mistler Davidson. All rights reserved.
This content was written by Connie Mistler Davidson. If you wish to use this content in any manner, you need written permission. Contact Connie Mistler Davidson for details.