Lace of Beads #20 by Nina Libin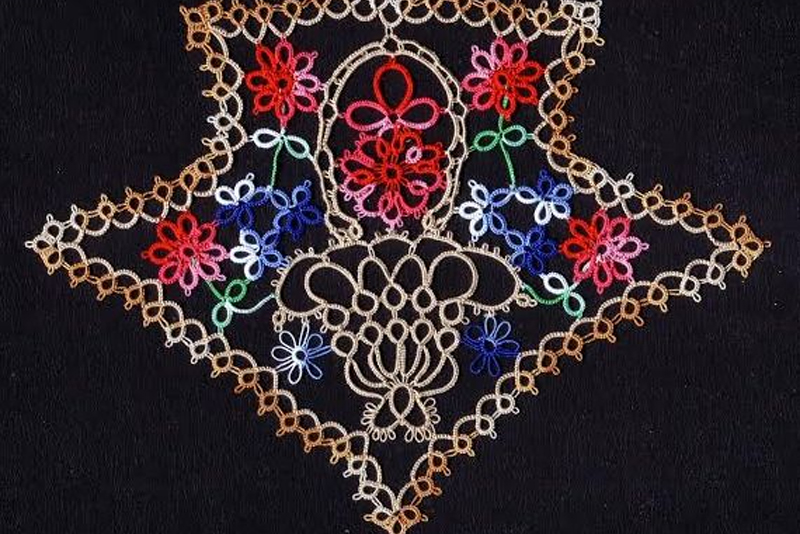 NEW! Lace of Beads #20 by Nina Libin
Great News! Nina Libin's new book on beaded split rings is now available!!!! "Essential Bead Tatting Part 111-1 Symmetrical Beaded Split Rings (Shuttle Tatted)" @2016 is #20 in her series "Lace of Beads." Stephanie Wilson was the test tatter for this book.
In 1998 Nina Libin brought fresh insight into the art of creating beaded tatting, or as she says, tatted lace of beads. Her first book, "Tatted Lace of Beads The Techniques of Beanile Lace" led us on a journey of discovery and exploration of the many possible combinations of beads, threads, and knots. As a primer for learning the basic stitches in tatting, it offered step by step instructions and detailed illustrations showing the movements of the hands. It examined multiple traditional ways to incorporate beads into shuttle tatting.
Nina Libin brought us a new notation form for the placement of the beads.
Tatters began to build up stacks of beads by placing some on the picots and some on the core threads.
Chart of beaded tatting by Mary Donahue
Over the years Nina has produced more and more books expanding our understanding of tatting with beads. A list of books #1 - #16 is available here at BellaOnline.com. Please see https://www.bellaonline.com/articles/art14353.asp
A study of the tatted split ring as a construction tool is a necessary step for tatting designers. The basic tatted forms are the ring, a circle which begins at point A and ends at point A, and the chain, a curve or arch which begins at point A but ends at point B, thus moving the lace forward along the line of progression. However, it is also possible to modify a normal tatted ring so that it acts as a chain.
This modified ring is called a split ring. The split ring is normally made in two halves (hence, "split") which may be symmetrical or asymmetrical. On most patterns, the split ring is drawn with a line through it indicating the split or with other crosshatching marks. Identifying the split ring separately allows the tatter's eye to follow the line of progression easily, too. The split ring, used in conjunction with a split chain sometimes, allows the tatter to climb out from the center of the piece of lace or climb from row to row without cutting the thread.
Nina's #20 book delves deep into the experience of creating tatted split rings which are both symmetrical and encrusted with beads. Her tatted jewelery pieces are stunning. The diagrams are large and clear. The split rings are designated by lines drawn across them with the sections tatted by different shuttles marked in color. Easy to read. This is a must have book.
There is also a companion book for needle tatters written by Nina Libin in collaboration with Bonnie Swank.
I received this book hot off the press direct from my long time friend, Nina Libin. - G. Seitz
You Should Also Read:
Nina Libin - Beaded Pearl Tatting BK 17


Related Articles
Editor's Picks Articles
Top Ten Articles
Previous Features
Site Map





Content copyright © 2019 by Georgia Seitz. All rights reserved.
This content was written by Georgia Seitz. If you wish to use this content in any manner, you need written permission. Contact Georgia Seitz for details.