Japanese Tatting Instructions Clover 71-360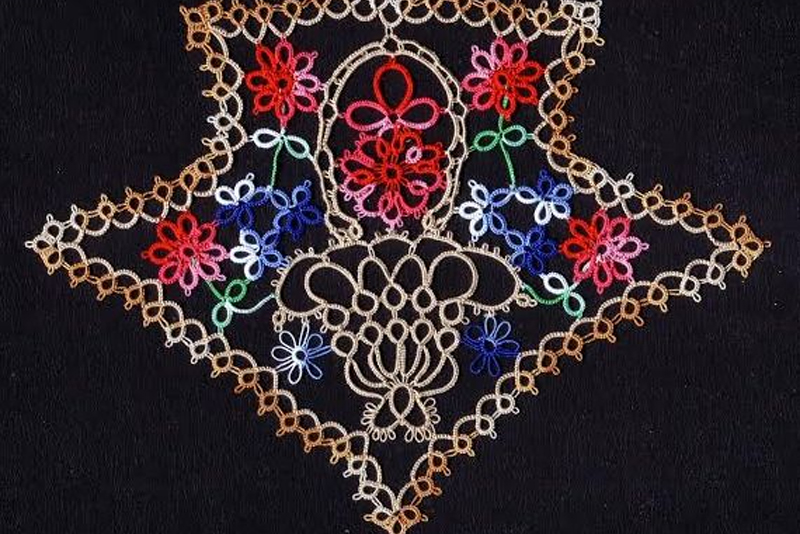 Japanese Tatting Instructions
This is a very petite booklet with but 24 pages (including the covers.) There are 10 patterns (counting the samples used for demonstration.) The patterns include small and medium sized motifs good for many uses singly and in multiples. The bracelets and necklace and simple but stylish. Little flowers are scattered throughout. It is the type of booklet found with needlework supplies for every type of needle art. Just enough to catch the interest.
But, the entire text is in Japanese, which might be a drawback. However, as long as an experienced tatter has a clear photo and a numbered diagram, the language of the pattern does not pattern. Unfortunately, this booklet is intended for the beginning tatter who might intrigued by the pretty tatted flowers on the covers but who might well pass it by.
Hopefully, the cover will draw the wannabe tatter in close enough for them to glance through the full color pages. Yes, there is Japanese text everywhere, but it is interspersed between marvelous color photos. In just two pages, the interested tatter will easily learn how to wind and hold a shuttle and wrap the hands. These photos are so detailed and best of all they begin the tatting instruction by teaching the chain done in two colors!! Two colors for a chain make any errors immediately visible and easy to correct.
The front and back side concept of a double stitch is made evident on the next two pages as well as the formation of picots. And by page 7, the tatter is seduced into making rings and joins and finally finishing off a piece. Quickly the next two pages draws the new tatter into beaded tatting and, ring and chain work, and before they need to rewind, they are tatting those same pretty flowers found on the covers.
What followed next truly was surprising. Pearl or maltese tatted chains with beads for bracelets. Three threads in play is followed by tatting with two shuttles! With the last motif comes floating rings and climbing out from the center without cutting the thread. Whew!
I acquired this little gem of a booklet for my personal tatting reference library. - G. Seitz
You Should Also Read:
Foreign Languages Tatting Terms


Related Articles
Editor's Picks Articles
Top Ten Articles
Previous Features
Site Map





Content copyright © 2019 by Georgia Seitz. All rights reserved.
This content was written by Georgia Seitz. If you wish to use this content in any manner, you need written permission. Contact Georgia Seitz for details.