Rainbow Bright Earrings by Renee Campbell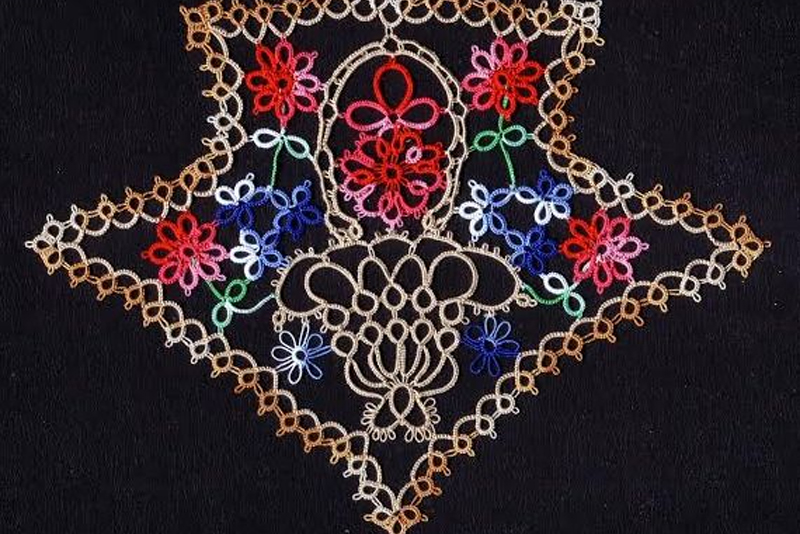 Rainbow Bright Earrings by Renee Campbell
The beauty of these is you can choose how big or small (the amount of rings and chains you use for each circle) you want each of the circles -and how long you want them to hang! I love these- one of my favorite pair of earrings I have made.
For the pair in the picture, I made each circle separately.
R = ring
C = chain
ds = double stitch
p = picot
CR = close ring
Smallest Circle - 12 rings and chains
R1: 4ds, p, 4ds, p, 4ds. RW. CR
C1: 12 ds.
R2: 4ds, join to last picot or R1, 4ds, p, 4ds. RW. CR.
C2: 12 ds. close.
For all other rings repeat R2 instructions 10 x.
End with a chain. Close to beginning of work.
Tie off ends.
Start the middle circle. Repeat the above pattern (16 rings and chains)
Tie off and weave in all ends.
Start the Biggest Circle - (same pattern - repeat 20 times)
Tie off and weave in all ends.
Once all ends are tied in, lay your circles on top of each other- smallest on top. Add a
jump ring to one of the chains - you can connect all circles here.
Or you can use 3 different jump rings.
Select a earring hook and connect to the jump ring. Don't forget your starch!
Now here's the fun part - wear them well! Renee' D. Campbell, Owner
Hooked On designs by Renee' I design with you in mind!
www.hookedondesigns.storenvy.com
hookedondesignsbyrenee@gmail.com
Learn how to hide ends.
If you are tatting a pattern where the last ring joins back to the first ring made, then plan ahead by preparing the initial ring to hide the ends by means of helping loops. These loops may be thread that is smaller than that being tatted or, use a monofilament thread, such as invisible sewing thread or fishing line. Use two pieces each about 6" in length. Fold in half and tape ends together. The loops will be inserted into the tatting so that one loop hangs down on each side of the ring with the loop at the bottom and the ends toward the center of the ring. Overtat the helping loops. At about the midpoint of the ring switch to the second helping loop.
Close ring very carefully and secure the hanging loops with tape or clamps so that they will not come out of place while you tat the length required. When finished attach last chain to base of initial ring. Cut leaving 6" tails. Insert one tail into each hanging loop and gently pull the loop and tail into the ring. Completely pull thru and trim closely allowing the end to recede into the tatting. Be very careful when cutting.
You Should Also Read:
Consider the ends first


Related Articles
Editor's Picks Articles
Top Ten Articles
Previous Features
Site Map





Content copyright © 2023 by Georgia Seitz ed. / Renee Campbell. All rights reserved.
This content was written by Georgia Seitz ed. / Renee Campbell. If you wish to use this content in any manner, you need written permission. Contact Georgia Seitz for details.