Mlle Riego 4 Shuttle Tatting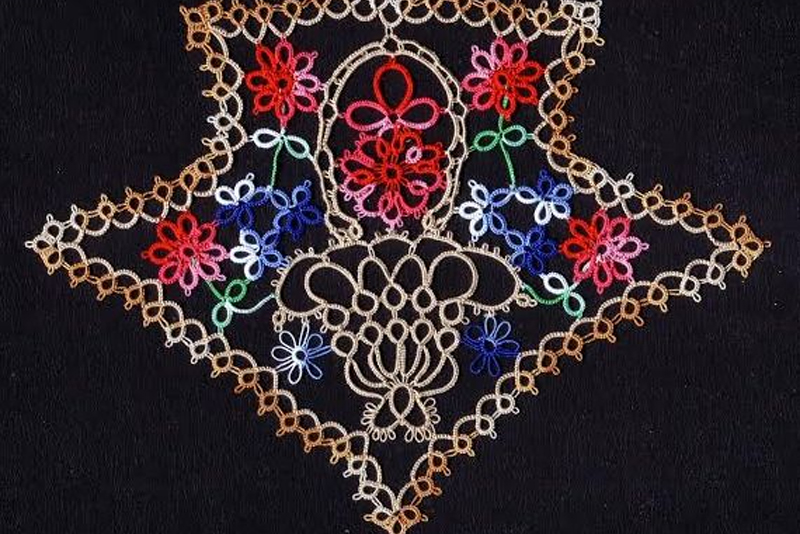 Mlle Riego 4 Shuttle Tatting
I have studied the many tatting books published by Mlle. Eleonore Riego de la Branchardiere for years. And yet, I find new information each time I read a pattern.
Mlle. Riego published her first book, "Knitting, Crochet and Netting" at the age of 12 in 1846. She went on to publish 72 books on the needle arts of which 13 were tatting books (11 books and 2 reprints.) Mlle Riego began with borders and insertions in tatting and went on to create gold-medal award winning tatting featured at the world expositions 1851, 1855, 1862 and 1872. All of her books are in public domain and may be downloaded free.
The Simple Book of Tatting, 1850
The Tatting Book, 1850
Golden Stars in Tatting and Crochet [Etoile Dorée in Tatting], 1861
Tatting Edges and Insertions, 1861
The Exhibition Tatting Book, 1862
The Royal Tatting Book, 1864, 1867
The Complete Tatting Book, 1866, 1867
The Pearl Tatting Book, 1866
The Lace Tatting Book 1867
The Raised Tatting Book, 1868
Lace Tatting. Tatting chapter only from the Irish Lace Instructor, 1886
Please follow the links to the free publications:
https://www.bellaonline.com/subjects/3137.asp
Here is a pattern from The Pearl Tatting Book. Described as a chain pattern insertion I mistook it at first for an example of split ring tatting. It is not. Instead, Mlle Riego uses four tatting shuttles to tat the alternating sides in one pass. Enjoy.
Prepare four tatting shuttles. Wind each pair of shuttles continuous thread method (CTM) for one or two color tatting or wind each shuttle with a separate color.
The red "V" symbols indicate a short amount of bare shuttle thread between rings and chains.
This is the order of work:
Shuttles 1 and 2 will tat Section A.
The work is reversed and the other pair of shuttles are used next.
Shuttles 3 and 4 will tat Section B.
Section A
SH1 = R 3 - 2 - 2 - 3 close ring. DO NOT REVERSE WORK (DNRW)
SH1 & 2 = CH 2 - 2 - 2 - 2 - 2 DNRW
The work is next reversed and the other pair of shuttles are used next.
Section B
SH3 = R 3 - 2 - 2 - 3 close ring. DO NOT REVERSE WORK (DNRW)
*SH3 & 4 = CH 2 - 2 - 2 - 2 - 2 DNRW
The work is next reversed and the first pair of shuttles are used next.
In section B there is a note to start the second chain by wrapping two first half stitches to make that section very tight. Continue alternating sides and shuttles for length desired. The heading on the insertion is pearl or maltese tatting.
Using three shuttles or two shuttles and a ball thread, tat 2 ds then wrap 2 ds.
Today we would tat this differently, of course.
Using two shuttles, the order would be to tat Section A ring rw with SH1 and follow with Section B ring using SH2. Bring both shuttles together to tat a split ring which would take the lace forward to the next set of rings.
You Should Also Read:
Node Stitch in Vintage Tatted Yoke


Related Articles
Editor's Picks Articles
Top Ten Articles
Previous Features
Site Map





Content copyright © 2023 by Georgia Seitz. All rights reserved.
This content was written by Georgia Seitz. If you wish to use this content in any manner, you need written permission. Contact Georgia Seitz for details.