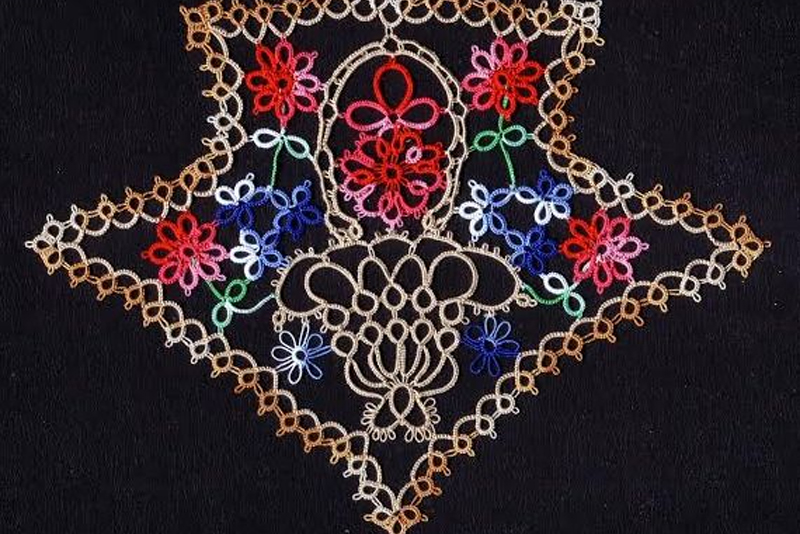 Tatting & Crazy Patchwork
I have been writing book reviews for tatting books for 17 years. This book, "Hand Stitched Crazy Patchwork" by Hazel Blomkamp, is not specifically a tatting book but it does have a six page section on the fundamentals of tatting. Intrigued, I looked at it more closely. By time I had surveyed the cover carefully, I just had to have it.
Its cover is just "covered" with tatting! Small tatted flowers blossom across seams and stemmed flowers seem rooted in the fabric. Traditional edgings of quartrefoils cover inches of seams. And, the tatting has been embellished with beads also.
The tatting patterns are the simplest and easily accomplished. Prominently featured is the quartrefoil motif. This four ring motif may be tatted separately or in a single line if the split rings is used.
Used on several parts of the patchwork is a basic flower tatted with 4 - 8 rings with no chains between them. These rings may be tied together, gathered through picots, or sewn down singly or in multiples to form larger rosettes.
Tatting is a natural embellishment for quilts of all kinds. Here just a few of the embellished quilt blocks from the tatting scholarship fundraiser in 2010.
Whether the block has solid or multi color space, there is tatting to fit any size. This is how my own block started, with "ALASKA" emblazoned across the central piece of the block.
Then I added 7 sequin stars for the Big Dipper and iridescent sequins swirling across the sky in honor of the Northern lights. One seam is covered with heavily embellished ribbons to reflect the Russian heritage carried on in the native dress. Also honoring the native cultures, a tatted fan like those used in Inuit dances. A tatting shuttle that looks like ivory is positioned across a background of spider webs. (The spider is one symbol of lacemakers.)
This block had the seams covered with traditional tatting.
Erin's block had oriental themed fabrics which inspired her to tat a pagoda and other items from the Blue Willow Tatting book by Pam Palmer (o/p). Note how some of the tatting flows across more than one section of the block.
Connie's block featured hands actually tatting.
And all the hard work and cooperation produced several quilts for the fundraiser. This was the largest one.
So if you like quilting, crazy quilting, and beading adding tatting will be a natural hit for you. This book is a real inspiration.
Note: I acquired this book for my personal tatting reference library. G. Seitz.
You Should Also Read:
Free Flower patterns


Related Articles
Editor's Picks Articles
Top Ten Articles
Previous Features
Site Map





Content copyright © 2019 by Georgia Seitz. All rights reserved.
This content was written by Georgia Seitz. If you wish to use this content in any manner, you need written permission. Contact Georgia Seitz for details.