Strange Insertion Priscilla Book 2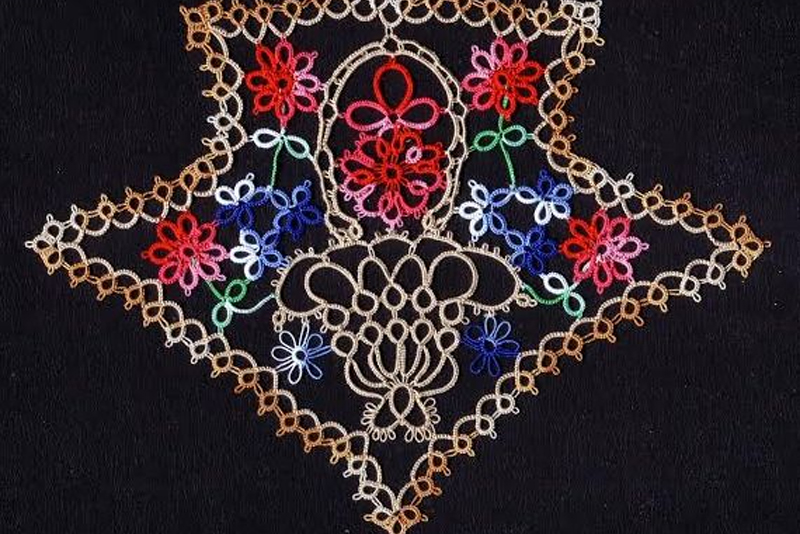 Strange Insertion Priscilla Book 2 pg 5
Insertions are useful patterns for linens in particular but are often found on clothing as well. Many times an insertion is a mirror image pattern with free picots on the outer edges of both sides. These picots make sewing onto cloth easy. But this one is a bit odd.
The alternating ring and chain pattern is fairly standard. Throwing a ring off the chain with a second shuttle is a bit fancy. But, whoa, how did those floating rings get on the opposite side? There is a fancy method toady called "ring off ring" or "ring on ring". It involves expanding the first ring and using a loop of the ring thread as if it were a shuttle to create the floating ring. A neat solution when there is but one shuttle.
However, tatting a chain and throwing the ring off is much easier to tat. Try this method.
SCMR = self-closing mock ring, FR = floating ring, R = ring, CH = chain, + = join, - or p = picot, clr = close, rw = reverse work, dnrw = do not reverse work
Pattern begins in the center of the insertion with a self-closing mock ring tatted as a chain, next the ring with 3 picots is a floating ring, and a chain follows the closed scmr from which the ring with only 2 picots is thrown off.
*SCMR CH 5 - 5 dnrw
SH2 FR 5 - 5 - 2 - 2 - 5 - 5 clr dnrw
continue scmr 5 - 5 clr rw
CH 7 dnrw SH2 FR 5 - 5 - 2 - 5 - 5 clr dnrw
continue chain 7 rw
Repeat from * with joins.
FR on the scmr will join at the first picot in all repeats.
The last picot on the scmr will be joined to the next scmr in all repeats.
FR on the free standing chain will join at the first picot also.
An elegant insertion but it begs for beads.
Consider placing beads on both shuttles. Beads of one color could be placed both on the decorative picots of the floating rings as well as over the joined picot. Perhaps beads on two colors could be placed on the core thread of the scmr. That would place color on the inside of the scmr, and arranging the beads in a certain order, allows mixing and matching the color of the decorative beads, too.
You Should Also Read:
Where to start the pattern?
Free Tatting Books Online


Related Articles
Editor's Picks Articles
Top Ten Articles
Previous Features
Site Map





Content copyright © 2023 by Georgia Seitz. All rights reserved.
This content was written by Georgia Seitz. If you wish to use this content in any manner, you need written permission. Contact Georgia Seitz for details.