Entredeux by Johanna Rubli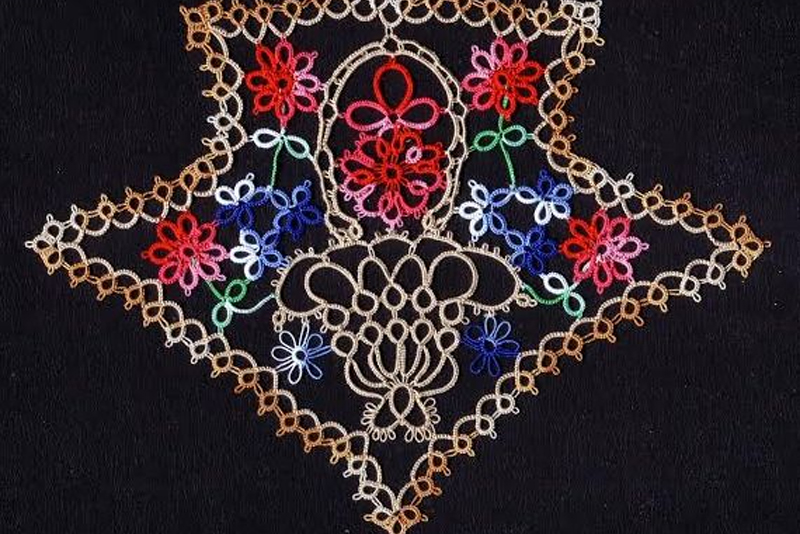 Entredeux by Johanna Rubli
"Frivolités" by Miss Johanna Rubli from Zug, Switzerland was published in 1917. This 67 page tatting pattern booklet is in German. The 50 plus photos of the work are faded with age and the text with them is not exceptionally clear in the directions. In the files are only a few pages showing a tea pot warmer, baby's hat, tablecloth entredeux and drawstring bags. No pattern directions and no diagrams.
Fig. 17 and fig. 11 share the same pattern. It is a two row edging which repeats on the return pass to form an insertion. A pair of repeats are also visible as decoration on the tablecloth.




Using two shuttles or one shuttle/needle and the ball with the thread wound continuous thread method (CTM), begin row one with ring A
A. R 8 - 8 clr rw. (This picot will have 3 joins in it.)
B. CH 8 dnrw
C. Floating ring 8 - 8 - 8 clr dnrw
D. CH 8 rw
E. R 8 + (join to p of ring A) 8 clr rw
F. CH 8 rw and repeat for desired length.

Row two. At the end of the length turn and work this row of all chains which use shuttle lock joins to attach to row one. NO reverse work needed.

CH 8 + 4 - 4 - 4 - 4 + 8 + 10 + and repeat. (shuttle lock joins)




Diagrams by Jane Eborall.




Abbreviations:
R = ring
CH = chain
rw = reverse work
dnrw = do not reverse work
- = picot
+ = join
shuttle lock join uses the shuttle core thread to join below the line of progression
entredeux = insertion, a strip of lace which join on both sides to either fabric or other lace.


Editor's note: For years I have called this designer Miss Johanna Rubli-Zug, or Miss Zug for short. I recently learned that the comma or period following Johanna Rubli's name on the cover and inner pages was not a hyphenated name but an indication that what followed was her hometown! So we have Miss Johanna Rubli from Zug , Switzerland. Many thanks to Martin Jaeger for cleaning that up for us.

You Should Also Read:
Free Tatting Books Online
Foreign Language Terms
Vintage Patterns


Related Articles
Editor's Picks Articles
Top Ten Articles
Previous Features
Site Map





Content copyright © 2023 by Georgia Seitz. All rights reserved.
This content was written by Georgia Seitz. If you wish to use this content in any manner, you need written permission. Contact Georgia Seitz for details.