Ribbonwinner Tatting Books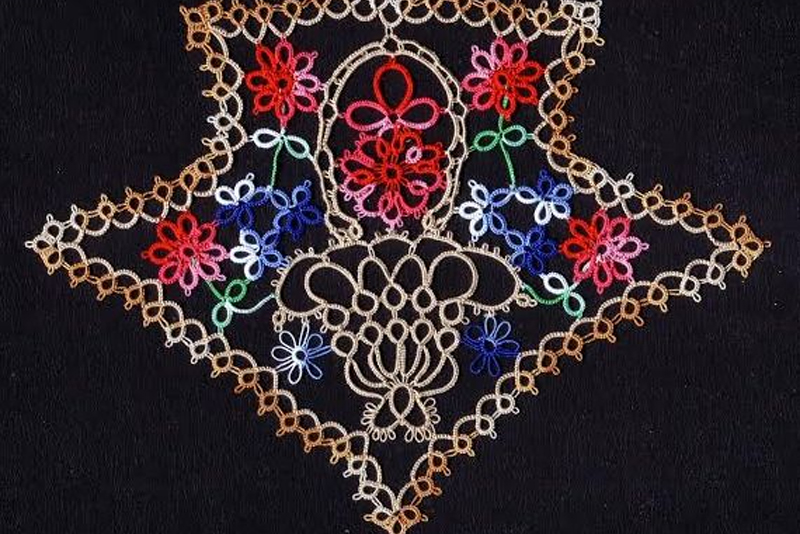 Ribbonwinners Series
Georgia Seitz - Ribbonwinners Tatting Patterns & Shuttles
Books available through the editor.
My series of tatting pattern books began as a collection of items I had designed for the Alaska State Fair and winter carnival exhibition, Fur Rendez-vous, so "Ribbonwinners" seemed like a good title for the series. A brief description of each book follows.
Book 1 "Tatting Alaskan Style" $10
12 Patterns for Christmas Ornaments and Snowflakes. The revised edition contains a bonus: patterns for Christmas Rose, A Heart for the Holidays and a Bell Ringer tree ornament. These are simple patterns right for any new tatter.
Book 2 "Tatting: It's Not Just Doilies Anymore!" $10
What followed next was a bit of a rebellion against the ubiquitous doily found in every grandma's parlor. These were 11 Patterns Celebrating the Spring Holidays. Patterns include Easter Egg and basket, shamrock, valentine, cross and pillow slip edging. Basic instructions for tatting over wire accompany a valentine project. None of the patterns are difficult but some require thought and planning.
Book 3 "Tatting Tiny Treasures: Miniature Tatting for Dollhouses" $9
Enchanting miniature tatted lace pieces and additional dollhouse accessories including a miniature tatting shuttle, Victorian thread winder and beaded rosary all tatted to scale 1:12. A color plate shows most of the lace pieces. The miniature shuttle and a snowflake sequin serve as a cute pin also.
Book 4 "Tatting on the Edge.. and Beyond" $18
The 40+ patterns move from one shuttle work to multiple shuttles and the use of split rings. Patterns are given to cover each technique and offer several variations. From the traditional shuttle-tatted doilies to free form needle-tatted grapes, something for tatters of all levels.
A really BIG book of tatting with 172 pages of tatting by over 70 tatters from around the world with an astounding variety of patterns. A reference list of tatting titles is also included.
Book 6 "Tatting Talk: Self-Improvement Guide" $11
This instruction manual would be greatly beneficial to the beginner and intermediate tatter. It is a guide which offers small but important ways to improve both your technique in tatting and in designing tatted lace. A few patterns are included to illustrate techniques.
Tatting Online: The 1999 Official Tat Chat Book, Georgia Seitz, ed. is now back in print. $25
This book was a project of the online tat chat group in 1999. All patterns were donated and the part of the proceeds supported the server costs for the list. The donation part now supports the website of the Online Tatting Class and the Free classes held in the cyber classroom. It has 100 pages of intriguing designs for all levels of experience.
You Should Also Read:
Book Reviews


Related Articles
Editor's Picks Articles
Top Ten Articles
Previous Features
Site Map





Content copyright © 2019 by Georgia Seitz. All rights reserved.
This content was written by Georgia Seitz. If you wish to use this content in any manner, you need written permission. Contact Georgia Seitz for details.