Tricky Edging for Adv. Beginners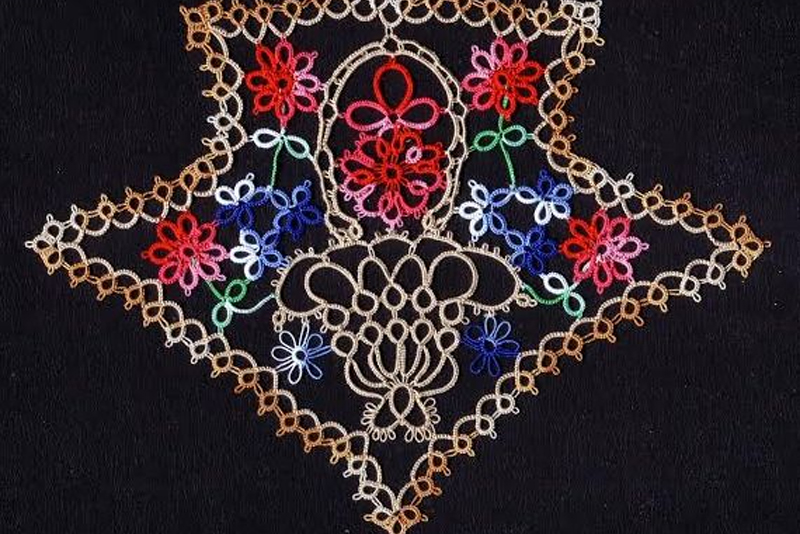 A Tricky Edging for Advanced Beginners
This edging appeared in the Coats & Clark Booklet #159, "Priscilla Edgings for all purposes," and is used as a teaching tool with their permission. C&C advises that this booklet is vintage and may not be available for sale. But do watch for it on the secondary market.
It is suitable for handkerchief edgings, household linens, collar trims. If worked in size 60-100 thread it would also be perfect for embellishing children's clothing.
Directions.
R = ring
CH = chain
+ = "join"
p or - = picot
rw = reverse work
clr = close ring
sep by = indicates the number of ds separating two picots
Using one shuttle and ball thread or for two color work use two shuttles. Although the vintage patterns indicate the two threads should be tied together, there is no need to do that. There are several methods of hiding ends as you begin to tat.
Here is a great one to use, the loop tail or magic thread trick method.
R 5 - 5 - 5 - 5 - (next chain joins to this picot) 5 - 5 clr rw
*CH 5 - 5 - 5 + (join to next to last picot of previous ring)
CH 5 - 5 - 5 rw
R 5 - 5 + (join to same picot of first ring) 5 + (join to last picot of same ring) 5 - 5 - 5 clr dnrw
R 5 + (join to last picot of previous ring) 5 - 5 - 5 - 5 - 5 clr rw Repeat from * for length desired
This edging creates the first ring to which the first chain joins at the penultimate picot (next to last picot.) This begins to force the ring to tilt to the right. A similar length chain is tatted next and immediately a new ring is begun. This new ring joins back to the same picot as before, thus making the next ring lean to the left. When it is closed the third ring is started without any space nor chain between it and previous element. This creates back to back rings. Just pay attention to the joins as you start and the pattern will become easier to see.
If tatting this pattern as an advanced beginning or beginning tatter, bear in mind that the length of the picot on the rings which are joining picots is important. If that joining picot (usually a side picot) is made the same length each time, the edging will take on a natural curve. If you are working on this for a round doily, dress flounce or collar, then this is to be desired.
However, if the project has straight sides then you will want a straight edging. To achieve this, make that joining picot 1/3 longer than the other picots. A small portion of the thread gets "used up" in the joining construction, so the extra length allows the edging to remain flat.
But the best method to accommodate a corner for this particular edging is to add a chain. After the first chain of the set joins to the ring, then tat another chain with or without picot slightly longer and join in at the exact same spot. Then begin the next set of rings.
You Should Also Read:
3 Basic Edgings C&C 1488L
Simple Dainty Edging Beginners
Faux Clover Tatted Edging A314


Related Articles
Editor's Picks Articles
Top Ten Articles
Previous Features
Site Map





Content copyright © 2019 by Georgia Seitz. All rights reserved.
This content was written by Georgia Seitz. If you wish to use this content in any manner, you need written permission. Contact Georgia Seitz for details.