Mignonette Edging Tatting Adeline Cordet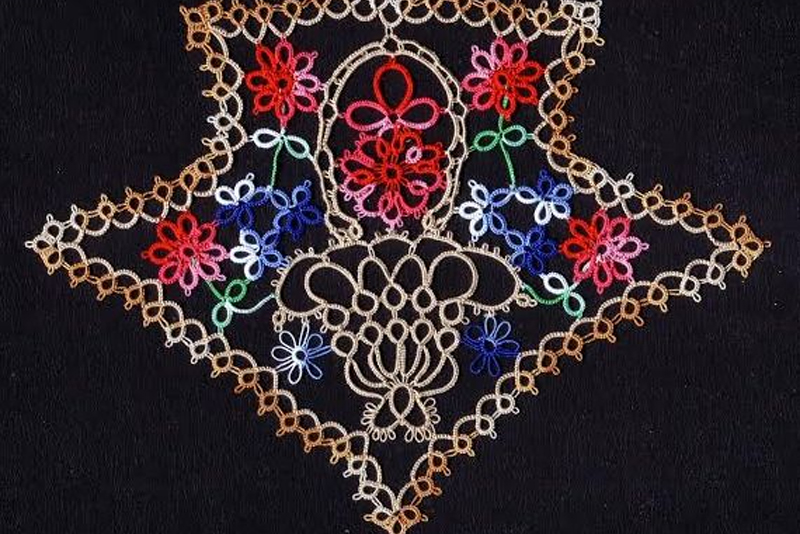 Mignonette Edging Tatting Adeline Cordet
This pattern is #558 on page 7 of "Tatting", by Adeline Cordet Book 5. Here it is shown as an edging but it may serve either as an edging or an insertion. For insertion, the beginning and ending rows should have small picots on the rings. All rows are tatted in a light and airy method called "mignonette."
Mignonette tatting is created with all rings separated by bare thread spaces. The rings are very small and (normally) without picots. As each ring is tatted it is joined to the bare thread space between two rings on the previous row. Mignonette is a great method to fill spaces, frame focal pieces and increase the width of doilies.
Abbreviations:
R = ring
BTS = bare thread space
+ = join
p or "-" = picot
rw = reverse work
dnrw = do not reverse work
Begin with one shuttle or needle. Prepare a gauge to measure the length of the BTS. An easy way to make such a gauge is to take a small piece of cardboard. Cut a slit in one side (A) measure down the piece to find the desired length of the BTS and make another slit (B.) Slide the finished ring into slot B and hold firmly. Bring the shuttle thread up and into slot A. Holding the thread steady in slot A commence a new ring.
If you prefer to not measure, then try to make each BTS the same length understanding that it does stretch a bit while working. And be aware that if the BTS is too long then it will sag. This condition may be seen in certain spots of the sample shown. Closing a ring too vigorously may also cause the thread to draw up too much. Strive to make the rings all the same size. A little practice will soon make it all go automatically for you.
If tatting this as a hanky edging you may join directly to the hanky edging or to the spokes of the hanky edge. However, this is not recommended. The cloth of the handkerchief will wear out long before the tatted lace does. If the tatting is attached separately to the hanky, then you may safely remove it and reuse it on another piece.
In order to tat the edging separately, please obtain large safety pins, or the giant stitch holders used to secure knitting stitches while the knitting is still in progress. After you tat the small rings, slide them onto the stitch holder by the picot. The bare thread space will hang below the holder and allow you make the joins of the next row without removing the rings from the holder. When tatting the last row, consider alternating the tiny rings so that the inner one joins to the previous row; then reverse work and make the next ring with picots face outward. This places picots on both sides of the edging which may be attached to cloth.
Directions:
Row 1
R 2 - 2 clr drnw leave 1/4" or 1 mm BTS
Repeat for desired length.
Additional rows
R 2 + (join to BTS of previous row) 2 clr dnrw leave 1/4" or 1 mm BTS
Repeat as needed.
Last row if making an insertion
R 2 + (join to BTS of previous row) 2 clr rw leave 1/4" or 1 mm BTS
R 2 - 2 clr rw leave 1/4" or 1 mm BTS
Repeat as needed.
A variation for last row would be to place multiple picots on the outward facing ring.
You Should Also Read:
Mignonette Tatting Adeline Cordet


Related Articles
Editor's Picks Articles
Top Ten Articles
Previous Features
Site Map





Content copyright © 2019 by Georgia Seitz. All rights reserved.
This content was written by Georgia Seitz. If you wish to use this content in any manner, you need written permission. Contact Georgia Seitz for details.