3-D Tatted Fairies - Carolyn Craig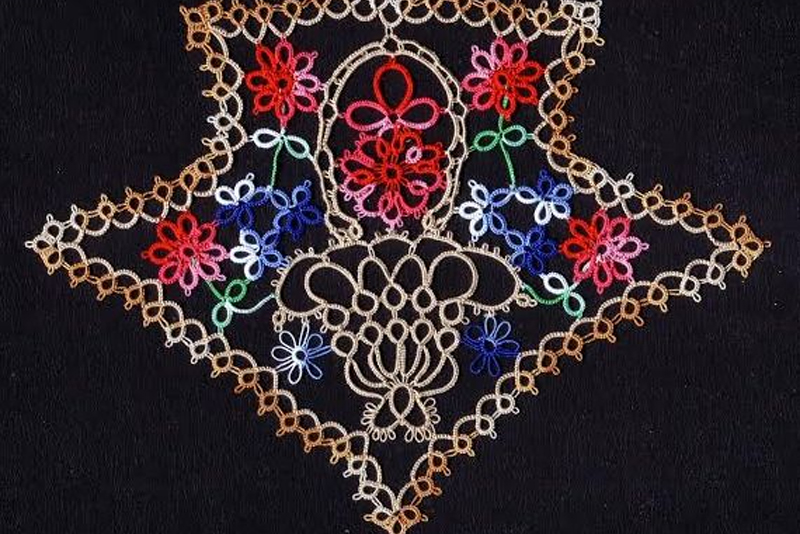 3-D Tatted Angel & 3-D Fairies by Carolyn Craig
Carolyn Craig is a tatting designer new to me. I am delighted to have received her two books recently. Both the Angel and the Fairies books are published in lovely color, 8" x 11.5" (22 x 28 cm) bound.
The Angel book has 20 variations of the completed angel. Each of them is pictured separately in detail.
All the items need to craft an angel is pictured and described thoroughly from the beads to the quilting thread, from the satin and organza ribbons of the skirts to the metallic floss and downy feathers that give loft to the figure.
The angels do have a body of beads which form both arms and legs and a larger bead for the heads. The crafting part of the angel is clearly explained and photos are included to help determine the separate pieces; halo, wings, and two layer skirt.
The method of tatting the pieces includes rings, chains, both joining and decorative picots (picot gauge may be needed for the graduated size picots), mock picot to climb out of a ring and split rings also. The wings are tatted in two sizes which when joined and attached to the back of the angel gives it great depth and presence. The separate bodice and sleeves completes the "dress."
Sample of photographs, tatting and the instruction style.
It is a real delight to see and to tat these divine figures. But there is more!


Carolyn's first book was published in 2014. It presents 30 fairies dancing with tatted wings and beaded bodies
The tatting methods required are ring, chain, joins, shuttle lock join and a picot for joining as well as decorative picots. The actual tatting may be simple but it is also simply delightful!
The fairies have whimsical names such as "Bliss, Becca and Brooklyn." The many colors of tatting thread that can be used for the tatting and the many floss colors for the hair allows the tatter to dress the fairy in many themes.
The thread used was quilting thread, 100% Glace coated, so it does not bind when closing the large rings tatted for the wings. She noted that there are mediums for coating the thread which helps when closing a ring, but she seldom took the time to do that.
Carolyn shared her family history with us too:
"I have been tatting since I was about 9 years old after my father dared one of us, three girls, to learn to tat for my mother for Mother's Day. (My grandmother died young, never taught her two daughters to tat.). I was the only one that learned to tat for my mother and that was 60 years ago. I did not start designing and experimenting with the tatting until I retired from teaching art for 36+ years. I have published only two books: Tatted Fairies (3-D) and 3-D Tatted Angels

I am working on my 3-D flowers presently. I have been doing tatting off and on while teaching, but just did not have the time to devote to doing a lot of tatting. After I retired I have been doing four shows a year, mainly in September -December months. I demonstrate tatting at all my shows, because so many people have never seen tatting done, or their grandmother or great aunt use to do that but never passed it on to the next generation. The other months are for tatting. Most of my teaching was as a classroom art teacher (Kindergarten- 12, Special Education, and art teachers with the Indiana Department of Education). Teaching tatting has been one-on-one, I believe people become frustrated because they do not know what to look for when tatting. When teaching one on one, I have been able to reinforce what they are looking at and what they need to do when flipping the thread to make a ds stitch."
ccraig1406@aol.com
Nota Bene: I was delighted to receive these books as a gift from Carolyn Craig. G. Seitz
Here's the latest article from the Tatting site at BellaOnline.com.
Mignonette Edging Tatting Adeline Cordet
This pattern is #558 on page 8 of "Tatting", by Adeline Cordet Book 5. It may serve as an edging or an insertion. It begins with a regular all rings strip with bare thread spaces between the rings. The following rows are tatted in a light and airy method call "mignonette."
https://www.bellaonline.com/articles/art303612.asp/zzz
Please visit tatting.bellaonline.com for even more great content about Tatting.
To participate in free, fun online discussions, this site has a community forum all about Tatting located here -
https://forums.bellaonline.com/ubbthreads.php?ubb=postlist&Board=39
I hope to hear from you sometime soon, either in the forum or in response to this email message. I thrive on your feedback!
Have fun passing this message along to family and friends, because we all love free knowledge!
Georgia Seitz, Tatting Editor
https://tatting.bellaonline.com
One of hundreds of sites at BellaOnline.com
You Should Also Read:
3-D Tatted Angels - Carolyn Craig


Related Articles
Editor's Picks Articles
Top Ten Articles
Previous Features
Site Map





Content copyright © 2023 by Georgia Seitz. All rights reserved.
This content was written by Georgia Seitz. If you wish to use this content in any manner, you need written permission. Contact Georgia Seitz for details.