Needle Tatting Lace - Hiromi Imaizumi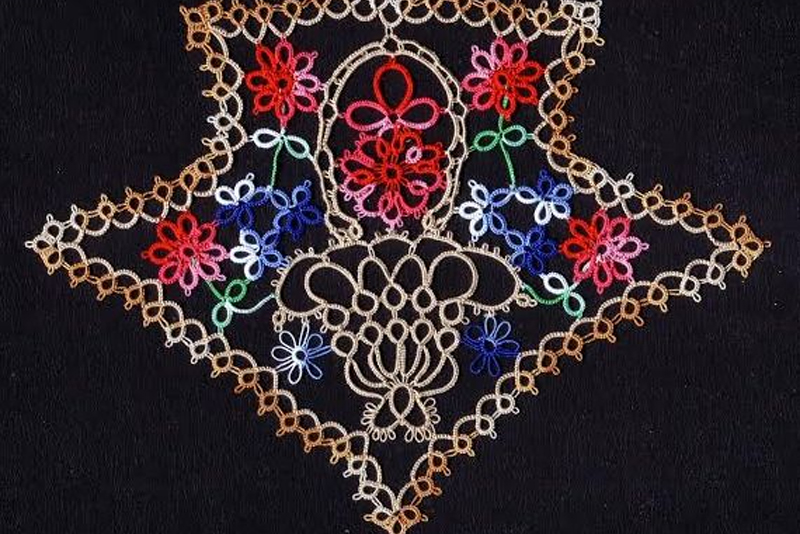 Needle Tatting Lace by Hiromi Imaizumi
"Wahoo! Golly gee, Batman!"
Yes, that was my reaction to my first reading of Hiromi Imaizumi's new book. It is a really good instruction manual for beginning needle tatters. The cover shows several small, dainty projects with the look of miniatures and a framed doily, but I was taken by surprise by the very first inside page!
This is special note #3 which brings our attention to the front and back sides of the work. And shows how the reverse work technique functions. Note #2 earlier displayed the actual picot on a ring and how it differed from the same picot when the ring had been reversed.
There were some cartoon-like characters that look like drawings of a double stitch. These helpful characters are seen throughout the book giving tips, encouragement and pointing out spots that needed special attention. All of it designed to build enthusiasm and confidence while learning tatting. The back inside cover even has a drawing of a "new tatting student" learning from the "Queen of Tatting", drawn in anime style.
Although this presentation is suitable for anyone of any age to learn the basics of tatting, it would certainly appeal to a mom and daughter (or son) seeking quality time together. But the jewelry designs would thrill teenagers or young adults seeking to stand out in the crowd with lovely jewelry. This foundation in tatting could well inspire hobby tatters to become lace and jewelry crafts business founders.
"But..." Yes, yes, I can hear you saying that the text is all in Japanese! Yes, it uses kanji, katakana and hiragana. All three types of their written language.
"But", and this is me saying it, it also uses regular numbers to mark all the double stitch counts. There are arrows showing the direction of work. A large red dot indicates the start of each pattern, too. Many beads are used in the jewelry patterns. Illustrated tutorials are included for all the types of beads and joins used
With all these aids, anyone can follow the illustrations and read the pattern to create fabulous tatted lace. Published by Hiromi Imaizumi, paper bound, full color photographs, black and white plus color illustrations on 42 pages. Over 20 luscious designs at levels for beginners, intermediate, and first steps in advanced. And beaded tatting tutorials, too.
This sample of a pattern diagram shows how easy it is to read and follow. The construction is clearly drawn. Notice the fine line in the dimpled ring that creates the heart shaped ring.
And this illustration used big and bold lines to teach the double picot.
I like this book, just as a book. The photography is stunning and the layouts created to showcase the tatting are just stunning.
Note: I am very pleased to have acquired this book for my personal tatting reference library. G. Seitz
You Should Also Read:
Foreign Language Tatting Terms


Related Articles
Editor's Picks Articles
Top Ten Articles
Previous Features
Site Map





Content copyright © 2023 by Georgia Seitz. All rights reserved.
This content was written by Georgia Seitz. If you wish to use this content in any manner, you need written permission. Contact Georgia Seitz for details.