Art of 3-D Tatting Vol. 3 - Terachi Yuuko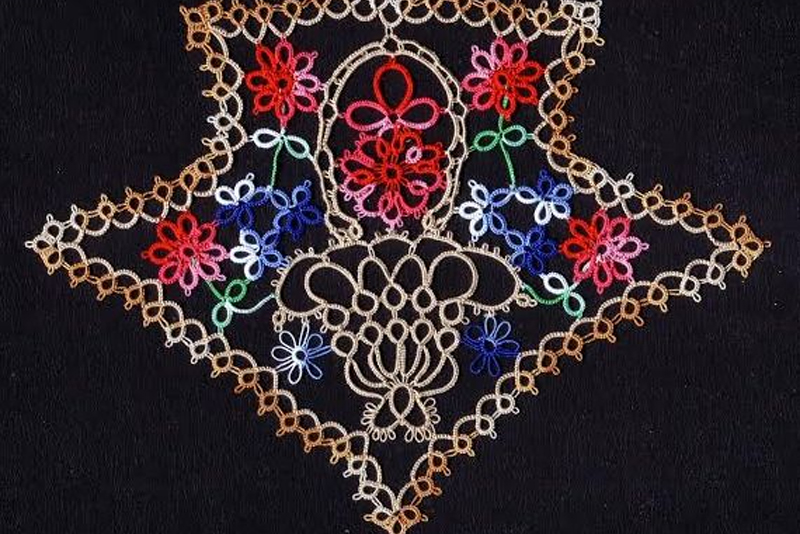 Introducing Vol. 3 of Art 3D Tatting by Japanese Tatting Designer, Yuuko Terachi
Although Yuuko's first book had only Japanese text, happily vol. 2, "3D Flower Tatting" and this new volume 3 both have Japanese and English text. The magnificent full color photography for these tatted pieces of jewelry and the unusual new construction called the "wrapped loop" make these dimensional pieces stunning.
The method is called "Yuuko's Push-out Trick" and it is easy to learn with these greatly enhanced photos in the photo tutorial.
Along with the close up detailed photo of the finished pieces, there are diagrams showing the double stitch count.
Using the straight line versus the ovoid teardrop to indicate which type of picot is needed, straight line indicating a picot without beads while the teardrop indicates a beaded picot, is very useful. Additional diagrams show the regular double stitch count and the number of beads per picot.
Yuuko's books are sold internationally by Japan & Asian Tatting lace Shop Aphyu Tatting. The website is https://aphyu-tatting.ocnk.net and it shows a lovely shop and many tatting supplies and books, too. I was so surprised to see for sale a necklace with the tatted flowers covered in gold leaf. And, I discovered that there are also three tatting shuttles decorated with gold leaf for sale. My goodness!
I noticed that among their supplies for Japanese Hook Tatting (Takashima-Bari)style, they have book 3 (as well as books 1 and 2) in their inventory. You may remember the late Toshiko Takashima from an earlier article on this form of tatting.
I also saw some brightly colored Lady Hoare style shuttles listed as "funny shapes." Unconventional but fun.
PS. Here is a list of the most common tatting terms translated in several non-English languages. Included are book reviews or patterns in the respective languages, too. https://www.bellaonline.com/subjects/373.asp And just in case here is the list of Japanese terms too. https://www.georgiaseitz.com/2011/japaneseenglish.pdf
Note: I gratefully received this new book as a gift from Yuuko Terachi - G. Seitz
You Should Also Read:
Japanese Style Hook Tatting


Related Articles
Editor's Picks Articles
Top Ten Articles
Previous Features
Site Map





Content copyright © 2019 by Georgia Seitz. All rights reserved.
This content was written by Georgia Seitz. If you wish to use this content in any manner, you need written permission. Contact Georgia Seitz for details.