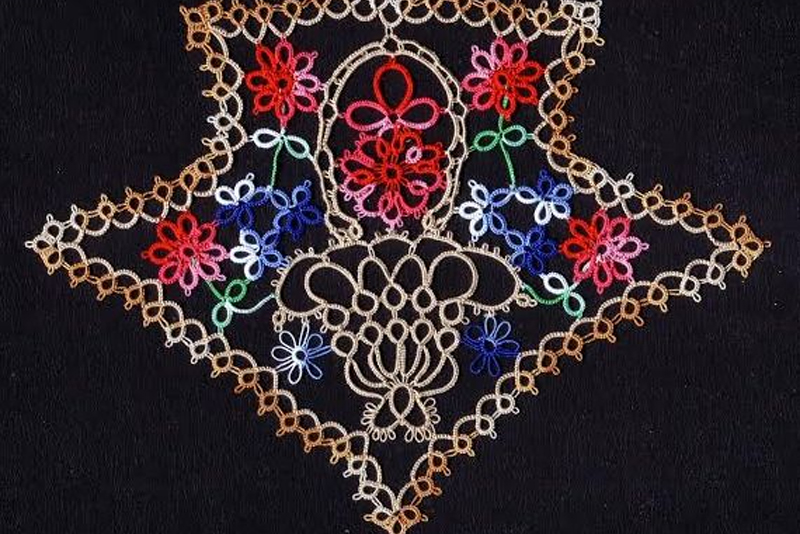 Why I Tat

This poem was written by Sariah Joy, a tatter and friend with whom I have lost contact over the years. Maybe she will see her poem online and get back in touch. She shared this with tatters from the Online Tatting Class years ago.

Tatting is Simple.

Thread + Fingers = Lace, Only One Knot, No Tools Required

Tatting Isn't Easy.

Tatting requires me to discipline my hands and mind, and quiet my heart.
Although tatting is simple, it isn't necessarily easy.
Simple things aren't necessarily easy to do… loving unconditionally, for instance.
(And now that I think of it … simple things are seldom easy,
and easy things are seldom worth it.)

Tatting is Frivolous

"Frivolite", the French term for tatting, has been adopted by many languages.
I'm adopting it, too! Tatting is my frivolity!
No lie or death scenarios hang on these knots.
A tatted knot won't rescue a cliff hanger, nor secure a surgical wound.
Unlike its crocheted cousins, there are no tatted dishcloths…no tatted wool socks.
I've never tatted a necessity.

Tatting is Essentially Useless.

It's the difference between a freshly bathed baby,
cuddled in a clean nightie (a very good thing!),
and that same baby presented to his community and his God in a tatted christening gown.

Tatting is deliberately choosing to celebrate the ethereal.

Tatting surrounds wedding veils and edges bed linens.
It decorates a little girl's spring dress, and her Grandma's funeral handkerchief.
It's a lace bookmark found saving a favorite passage.

Tatting Saves Time.

Each small ring and curve of chain captures an otherwise wasted moment.
With a shuttle in my pocket, I can gather all the worry out of my wait
in the emergency room, and turn it into one more inch of lace for
my daughter's wedding gown. Then later, each cloverleaf speaks to me, saying
"See God is in His Heaven and all's right with the world."

Why Knot?

I thought about knots while sewing one day:
The "grab tight and hold" knot I use to tie the end of the thread
as I finish mending, the glob of chaotic knot caught under
the sewing machine bobbin when the tension is out of whack.
Tatting can do that, too. My otherwise orderly progression of knots can become
a tangle when my spirit is tense and out of balance.

Tatting is Self-Correcting

The requisite patience and attention to detail
(labeled 'tedium' by those who've never tried)
smoothes my ruffled feathers and calms the savage beast,
even if the beast is the two-year-old watching, and bouncing, at my knee.

Tatting is a Paradox.

Lace magically pours from thin air (and a ball of string) into my lap.
Looking fragile and delicate; it's strong and durable.
Picking up my shuttles while the pasta boils,
I think of how fast the spaghetti disappears in this home of four teens.
Then I glance at the lace forming in my lap and smile …

Life is wonderful! And I hope to last long enough to see a future grandchild
wear this bit of lace that'll soon be a bonnet.

And that's why I take this time to tie useless knots
in paradoxical ways with the hope of creating…
something simply beautiful … something tatted.

Sariah Joy

You Should Also Read:
Grape vine padded - lesson
Pearl Tatted Bracelet Padded


Related Articles
Editor's Picks Articles
Top Ten Articles
Previous Features
Site Map





Content copyright © 2019 by Sariah Joy - ed. by Georgia Seitz. All rights reserved.
This content was written by Sariah Joy - ed. by Georgia Seitz. If you wish to use this content in any manner, you need written permission. Contact Georgia Seitz for details.