International Tat Day 2017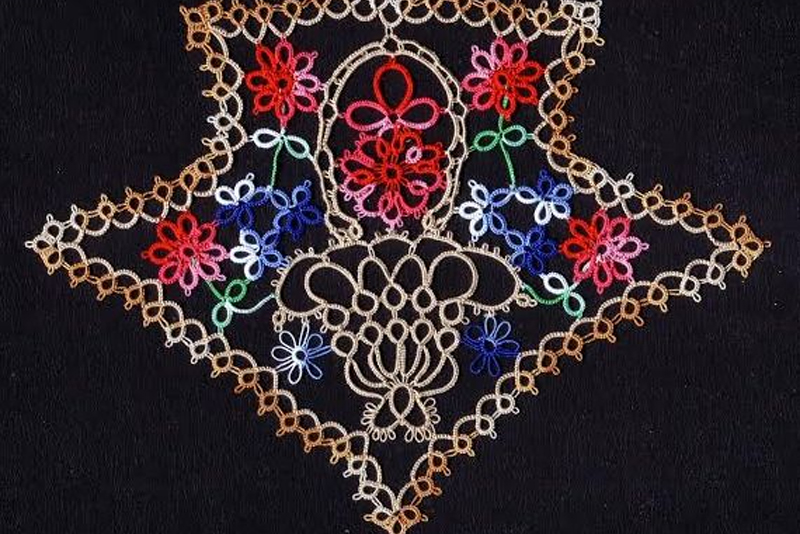 Happy International Tatting Day! April 1, 2017
It has been more than 25 years that the Online Tatting Class and I have been celebrating International Tatting Day with tatters from around the world. In groups large and small, in homes and school rooms, in conference rooms and online, tatters gather together on this day to share their love of tatting. We demonstrate the techniques and teach new tatters by the hundreds. This Saturday over 1638 tatters from just the Online Tatting Class have the opportunity to gather in the cyber classroom and share. Hundreds, perhaps thousands more tatters from many countries around the world will do so also. It is a quiet, friendly revolution spreading the art of tatting everywhere.
This year I was joined in the free online tatting class classroom by over 43 (last count) tatters from at least 18 nations: United Kingdom, Brazil, Argentina, India, Italy, Singapore, Canada and the United states.
The class began with:
AKTATTER (that's me): Hello all
mary* Hi. Is this April Fools Day joke?
AKTATTER: no joke, special class to honor tatting and the ioli (International Org. of Lacemakers, Inc.) facebook page is talking about us today. See: https://www.facebook.com/pg/iolilace/posts/?ref=page_internal
AKTATTER: that was really nice of Devon Thien the ioli facebook page editor
AKTATTER: https://www.bellaonline.com/newsdtl.asp?name=tatting&date=3%2F30%2F2017+8%3A53%3A39+PM
AKTATTER: this is the newsletter to which she refers, it is the BellaOnline.com tatting newsletter.
Gina* Hi AK, had some trouble logging in. Happy International Tatting Day to all
AKTATTER: glad you made it probably just chatzy playing a trick on you, Say do you remember this?
Gina* Isn't that a mini crochet hook?
AKTATTER: Right and it is used for making picots, too
Gina* Oh around the diameter of the base of the hook? Clever ??
AKTATTER: If you read an old pattern telling you to wrap the thread twice around the No. 2 tatting pin, it means just this.
AKTATTER: We learned a lot about old time tatting in Virginia Mescher's article
AKTATTER: https://www.georgiaseitz.com/books/cw/cwtat.html
Bernice* I raided the Chocolate Chip bag.. it just wouldn't be the same without chocolate and tatting on ITD.
AKTATTER: and tea! I just learned this week that tea comes in a chocolate flavor and so does wine!
Gina* Hmm no chocolate in the house, unless you count hot cocoa I had in my coffee earlier ??
Devo* Joining you from the American Museum of Natural History. Husband is viewing the quadrupeds. Just wanted to see what fun people are having at the party.
AKTATTER: Welcome all tatters!
AKTATTER: I always wanted to have a chocolate shuttle, but too messy to tat with and too tasty not to eat. But this is informal meeting, so pass the chocolate!
Bernice* That's funny a chocolate shuttle but a great idea for a goodie bag
And on we went with patterns:
https://tipsaroundthehome.blogspot.in/2017/03/fresh-fragrance-of-jasmines.html
This featured floating rings and later we talked about wrapping, split rings, split chains.
And before we ended the meeting we added a lovely poem to the file written by Muskaan of India.
AKTATTER: "Coz We Are Tatters
The room is all a-clutter
The family a-grumble, a-mutter.
But my heart is still a-flutter,
Stashing more thread is all that matters
'Coz I am a tatter.
"That money's for food!"
Oh, honey, I'm sure we're good.
Need a new shuttle in wood.
Diversifying my collection is all that matters
'Coz I am a tatter.
There's a new book online
Well, I mayn't tat a design
But that book has to be mine
Stocking my library is all that matters
'Coz, peeps, I am very much a tatter!
(Muskaan March 2015) Make lace, not war
Feel free to use this as you wish (with credit)
spread tatting and good cheer today,
and always :-D Chat 'n' Tat 'coz we're the Tatterati !!!
Who knows what challenges in tatting lie ahead? What ever you doing please make time for tatting.
You Should Also Read:
2017 Intl tatting Day Newsletter


Related Articles
Editor's Picks Articles
Top Ten Articles
Previous Features
Site Map





Content copyright © 2023 by Georgia Seitz. All rights reserved.
This content was written by Georgia Seitz. If you wish to use this content in any manner, you need written permission. Contact Georgia Seitz for details.