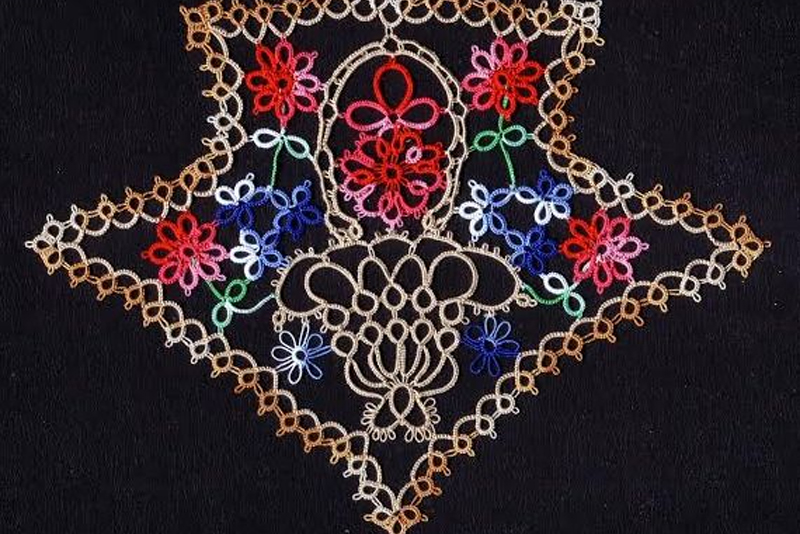 The Boo-Boo Cross
A few years back I posted this simple cross pattern. Over the years it has been requested many times.
The tatted cross is a perennial favorite with tatters everywhere. It is a great learning tool and a great gift item. It offers so many possibilities for creativity. Here on BellaOnline.com is a list of 21 tatted crosses by tatters such as Roger aka Freedman from the Needle Tatting website, Gillian Buchanan, a former BellaOnline.com editor, Julie Patterson from Australia (see https://www.bellaonline.com/articles/art21948.asp), Vickie Reynolds interpreting a design by the late master tatter Mary Konior (see https://www.bellaonline.com/articles/art70461.asp and https://www.bellaonline.com/articles/art13568.asp), and the Italian tatting designer, Edda Guasstalla.
I have told the Boo-Boo story before, but just in case you have not heard it before...It was in the Online Tatting Class one lesson around 1999-2000 when we were actually tatting as we talked in class online. We were teaching a very simple ring and chain repeat, with all double stitch counts 3 between every picot or join. But along the way I became distracted with answering questions and skipped a chain. This left two rings joined together. As I looked it seemed to make a corner so I kept going. Eventually it turned into the "Boo-Boo" Cross here:
Making lemonade out of life's lemons is a good idea. This little cross now illustrates so many elements of tatting.
1. Each ring and chain has 3 ds between picots or joins which gives practice in regularity of size and tension.
2. Rings join across to the opposite side requiring the picots to all be the same length when made, so the use of a picot gauge is very helpful.
3. Picots may be decorative as on the chains, or joining as for the rings to join at the sides. Those picots which join should be about 1/3 larger than the others IF you want the strip of lace to lay flat. If the joining picots are all the same size, the tatting forms a natural curve in the lace.
4. Picots may also be formed "backward," called an inward facing picot or down picot. This down picot is used in the chains of the short arms just at the end. The picot is made first and then another element, a ring, joins to it later.
5.Two rings made side by side with no chain between them usually are made without any bare space of thread showing between them. Leaving bare thread creates a visible gap not usually wanted.
6.When following a diagram, study it first for errors such as the missing picots between rings 1 to 6.
7.Don't be afraid to change the pattern. Prefer a bookmark? Just repeat the straight length for distance wanted. Afraid the arms will be floppy? Just add long picots from rings 6 to 18 and from 13 to 25.
8.Remember that turning a corner can be as simple as skipping a chain between two rings.
Happy Tatting!


Related Articles
Editor's Picks Articles
Top Ten Articles
Previous Features
Site Map





Content copyright © 2019 by Georgia Seitz. All rights reserved.
This content was written by Georgia Seitz. If you wish to use this content in any manner, you need written permission. Contact Georgia Seitz for details.