Brightly Colored Fruit Salad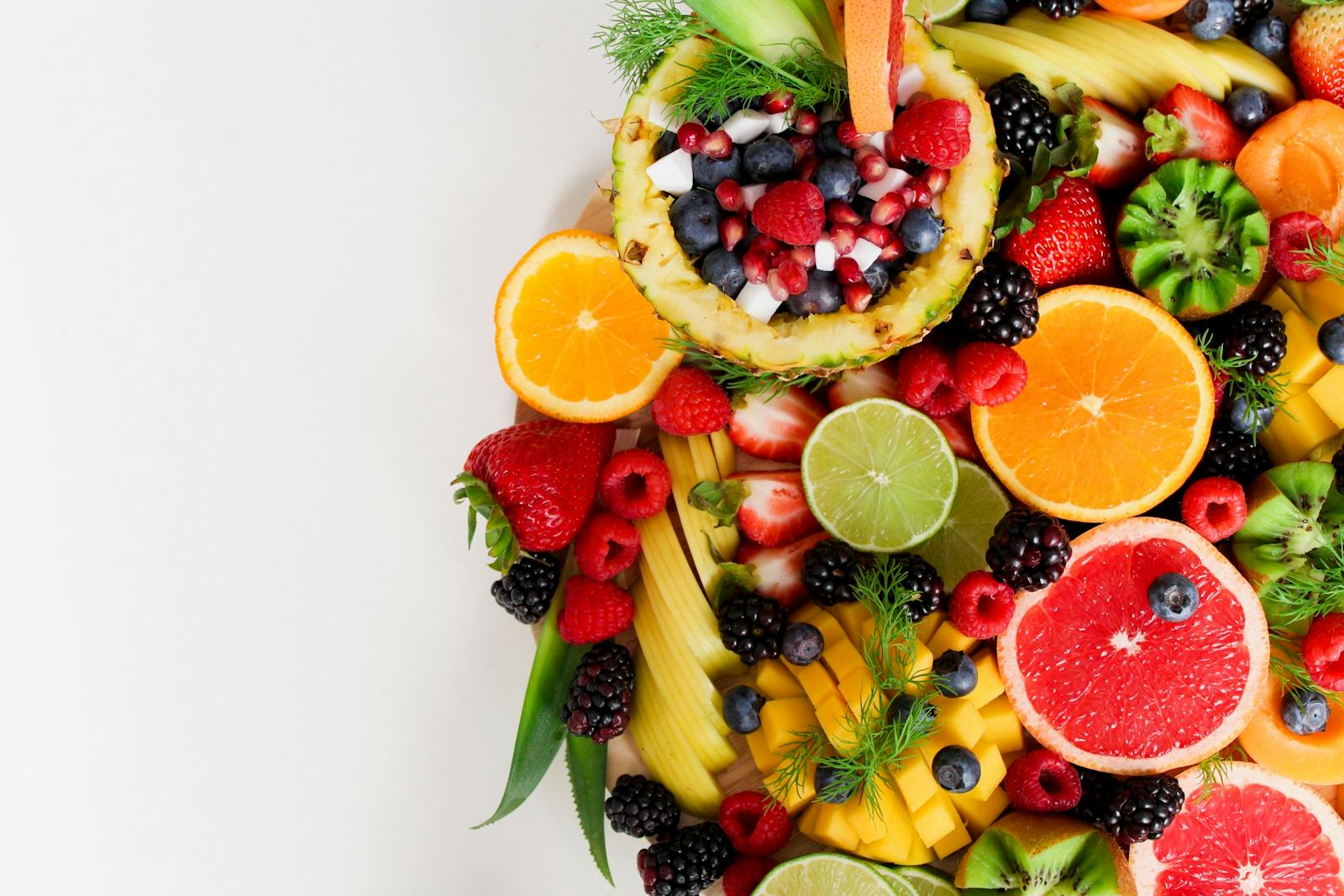 This fruit salad is so fresh and filled with sweet deliciousness that it doesn't seem possible that it is also full of vitamins, minerals, and fiber. Per 100 grams of salad, there is about 2.5 grams of fiber. There is quite a bit of Vitamin C in the salad.

There are many fruit choices that would work well in this salad. Chop the fruit so that it is all about the same size. You could also use pineapple, melons, seedless grapes, Mandarin orange slices, tangerine segment, sliced, peaches, and nectarines. Use the fruit that makes you happy! Make sure that you have a lot of variety.


Brightly Colored Fruit Salad

Ingredients and fruit preparation instructions:

Wash all fruit carefully. Pat all of the fruit dry with paper towels.

*1 Quart carton of strawberries-stemmed, sliced lengthwise in half, then make 2 slices across each half
*3 Kiwis- use a spoon between skin & fruit to loosen after cutting off each end. Kiwi will loosen & pop out. Chop up.
*3 Mangos-diced. Leave the peel on and slice up to the pit. Remove the slice from the pit. Place peel side down, then dice pulp up to the skin. After the cuts are made, scrape the pulp into a bowl. Separate dices, if necessary. You can also use a cup of frozen mango, chopped or a cup of canned mango, chopped.
*2 Bananas-peeled and diced
*1 Pint carton of blueberries-after washing and drying, check carefully for soft berries. Pull any stems off that remain, then discard the stem.
*2 ripe pears-peel on, sliced lengthwise, cored, and chopped
*1 large lime-roll the lime and press down as you roll. This makes more juice come out of the lime when it is squeezed. Use all of the juice for the dressing.
*2 tablespoons of honey. If you want a vegan alternative, use agave nectar. When you measure the honey, spray the tablespoon with non-stick spray to make the honey easily separate from the spoon.


Method:

Add all of the fruit to a large bowl. In a small bowl, whisk 2 tablespoons of honey and the juice of one lime together.

Pour the dressing over the fruit and mix together. Mix by tossing gently. Serve immediately or chill until ready to serve.


This fruit salad is as easy to make as 1-2-3! It's simple enough for an everyday meal, but tasty and gorgeous enough to make any meal a special event. My lovely salad has so many colors that you really are "eating the rainbow!" So fresh! Yummy stuff!



When I mention stores or products by brand name, these are the ones that I use. I have not received free products from the manufacturers, nor have I been paid to mention the products or stores by name.

NEWSLETTER: I invite you to subscribe to our free weekly newsletter. This gives you all of the updates for the Sandwiches site. Sometimes, this newsletter has information and variations on sandwiches that are not in the articles. Fill in the blank below the article with your email address - which is never passed on beyond this site. We never sell or trade your personal information.

Related links: The Related Links below this article may be of interest to you.

There are times when I recommend an item related to my article and add an Amazon link, so that you can check it out. I am an Amazon Associate, and when you purchase an item after clicking on my link, I do make a commission for purchases made through that link.



You Should Also Read:
Turkey with Mango Mayo Croissant Recipe
Shrimp Salad Recipe
Braided Beef Sandwich Recipe


Related Articles
Editor's Picks Articles
Top Ten Articles
Previous Features
Site Map





Content copyright © 2022 by Connie Mistler Davidson. All rights reserved.
This content was written by Connie Mistler Davidson. If you wish to use this content in any manner, you need written permission. Contact Connie Mistler Davidson for details.